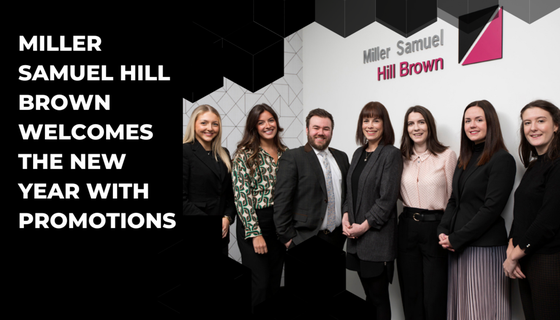 Miller Samuel Hill Brown are pleased to announce the promotion of three of its lawyers to the position of associate: Claire McCulloch, Calum Maclean and Gabrielle Reilly.
Claire McCulloch handles all aspects of Private Client work including Wills, Powers of Attorney and the administration of Executries. Claire is committed to looking after the interests of families and individuals and guiding clients through issues of succession planning, taxation, and protection of wealth. She will be undertaking the STEP qualification.
Calum Maclean is a solicitor in our Employment Law department assisting businesses and employees with both contentious and non-contentious issues. Calum is a member of the Employment Lawyers Association and the Scottish Discrimination Law Association. He also sits on the board of a local Glasgow charity who support those with addiction issues.
Gabrielle Reilly is an experienced Family Law Solicitor who represents a broad range of clients throughout Scotland. Gabrielle has a keen interest in Alternative Dispute Resolution. She is a member of Consensus Scotland and is trained in collaboration.
Marie Macdonald, Chairman of Miller Samuel Hill Brown, commented: "I am delighted to announce that Calum, Claire, and Gabrielle have been promoted to Associates with the firm with effect from 01/01. We recognise that our younger lawyers contribute in a real way to the continuing success and growth of the business and are the future of the firm. We wish them well!"
In addition to the promotions, the firm is delighted to welcome Becca King and Tessa Hickey who started their training contracts in December 2022. During the next two years, the trainees will rotate around our legal departments gaining experience and working directly alongside experienced practitioners for clients varying from individuals to Public Limited Companies.
The firm would also like to congratulate Anna Fox and Chloe Crawford on graduating from their traineeships and successfully qualifying as assistant solicitors. Chloe will remain on in our Licensing department and Anna in Litigation.
INTERESTED IN JOINING US?
At Miller Samuel Hill Brown, we are always interested to hear from talented people who share our enthusiasm. If you would like a career with us or further information about any vacancies, our Careers section provides further details of the recruitment process and current opportunities.