MSHB Take On Scotland's Legendary Kiltwalk Again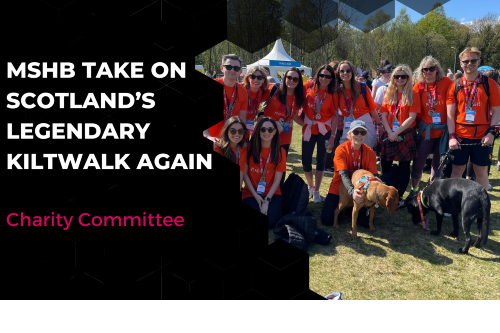 Miller Samuel Hill Brown completed the Glasgow Kiltwalk for Maggie's alongside their pooches on Sunday 24th April. The Glasgow event marked the return of the unique fundraising event that allows charities to receive every single penny plus a 50% top up thanks to the generosity of Sir Tom Hunter and The Hunter Foundation.
With the weather (surprisingly) on our side, the MSHB team put their best feet forward and completed 'The Big Stroll' (14.37 miles), which consisted of walking from Clydebank to the Kiltwalk Village in Balloch. The team had a brilliant day taking on the challenge as part of Team Maggie's to help raise funds for people with cancer, their family, and friends.
Raising an impressive amount of £2.5k and very close to our fundraising target, the window to donate is still open until midnight on the 4th May 2022. Maggie's Centre offer free practical and emotional support for anyone dealing with cancer, so anything you could donate can have a positive impact in helping someone with cancer or their loved ones. Donations of £7 could assist in paying for someone's first chat with a cancer support specialist; £15 could help someone get assistance with money concerns; or £30 could help pay for a session with a psychologist. We would be grateful for any donations you are able to give, please donate via our Just Giving page.