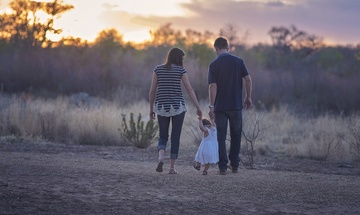 When relationships between parents break down and they separate or divorce, children are often the ones most heavily affected. If it becomes impossible for a child to remain living with both parents, it can be a complicated and stressful process determining what their living situation will be following separation.
How to decide where the child will live
Negotiation
The first step that should always be taken is to negotiate with your partner. While talking through the issues may be difficult, it is important to do this before the matter escalates. In an ideal world, this would be enough to solve any potential custody disputes. However, we are aware that these can be very high-pressured discussions with a lot at stake, so reaching agreements can be challenging.
Mediation
An alternative way to progress discussions is to use a mediator. Mediation is an alternative method of dispute resolution which looks to avoid the cost, length and discomfort often involved in addressing family disputes in the courts. A mediator is trained in facilitating talks between parties so outcomes can be reached. The mediator will ensure that discussions do not escalate into shouting matches, and developments are made. In the case that mediation is unsuccessful, or still leaves some points that cannot be agreed, court action may be necessary.
Getting a Residence Order from the court
Residence is the term used to describe where the child will live most of the time. A Residence Order will specify where a child is to live. The court will only grant such an order if it considers that it is in the best interests of a child to do so and if it is better to grant an order than not at all. The court will consider all circumstances when granting an order, with the child's welfare being the most important factor.
Moving abroad with your child
Even if one parent has exclusive custody of the child, this does not automatically mean they have the right to relocate the child. If the other parent still has 'parental rights and responsibilities' over that child, then they will have to give their permission for the child to be moved. If the consent is not provided, then the court must give permission to permit the move.
Do children have a say in who they live with?
Children in Scotland have the right to express a view as to where and with whom they are to live and this opinion must be taken into account. However, it is still up to the court to decide what is best for the child. It is presumed that a child over 12 has sufficient maturity and understanding to be able to express their view. A child who is younger than 12 can be given the opportunity to express their opinion too, but it may carry less weight.
How can we help?
If you are going through a separation and there are children involved, please get in touch so we can guide you through the separation process. We are experienced in facilitating conversations between parents to reach agreements about children's care and can support you in the court process should initial discussions be unsuccessful.
Contact our Family Lawyers in Glasgow, Scotland
At Miller Samuel Hill Brown, we provide clear expert advice on all aspects of family law. Based in Glasgow City Centre, our family lawyers also help clients in Glasgow's West End, South Side, Paisley and across Renfrewshire, Lanarkshire and Central Scotland. Let us help you. Please contact our family lawyer who specialises in child custody matters, Charles Brown on 0141 221 1919 or fill in our online contact form.