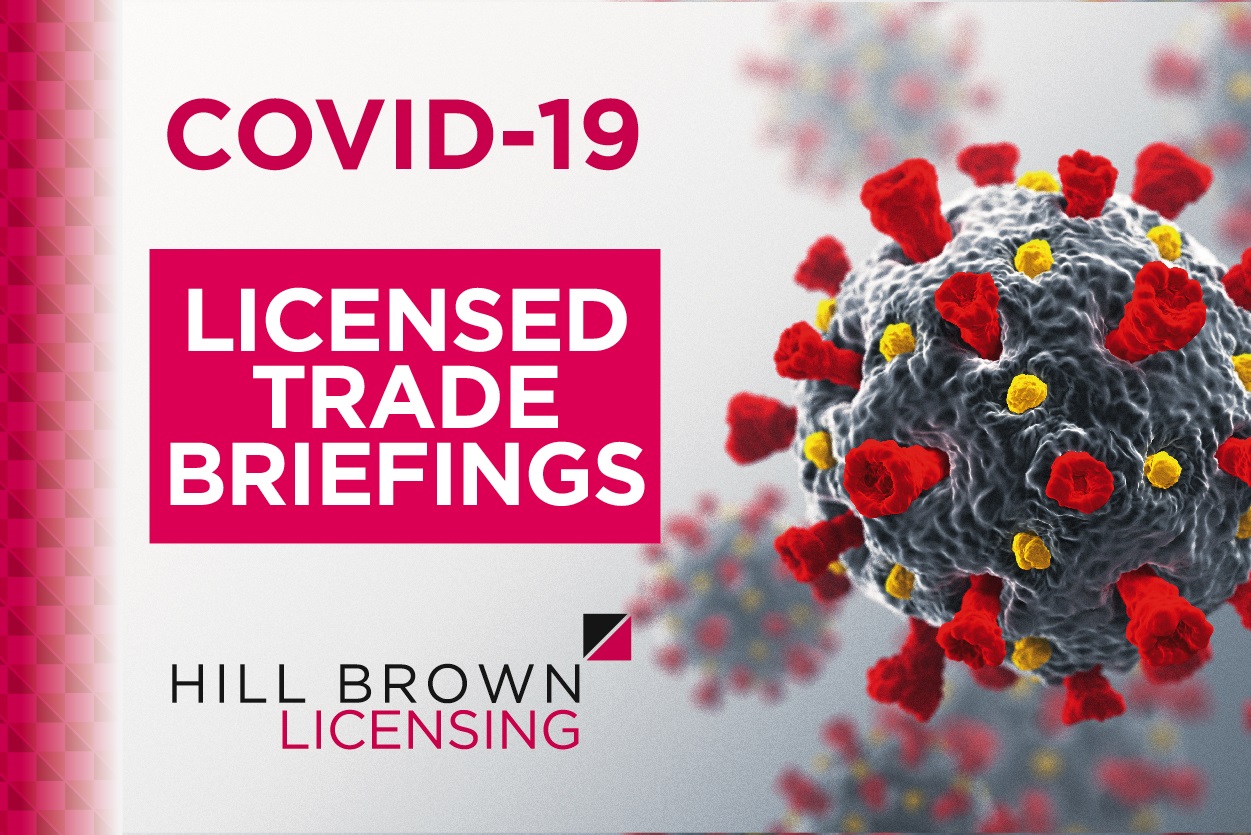 All information contain within this update is accurate at the time of publication. During these unprecedented times where the situation is constantly changing at pace it is vital that you take expert advice where necessary. Please do not hesitate to contact us if you wish to discuss any issues covered in these updates further. The Hill Brown Licensing Team and the wider team at Miller Samuel Hill Brown remain committed to providing the fullest possible service for the trade at this extremely challenging time.
To view our Coronavirus Crisis Licensing archive click here.
---
CORONAVIRUS CRISIS LICENSING BRIEFING #36
Update 17 March 2021
Lockdown-easing dates: A rocky road ahead
Here are the key re-opening dates set out by Nicola Sturgeon yesterday as they affect the hospitality sector:
26 April

Cafés, pubs and restaurants: open until 8 pm indoors for the service of food and non-alcoholic drinks (no alcohol sales) and until 10 pm outdoors with alcohol permitted.
No requirement for food to be served outdoors.
Indoor opening "depends on the continued suppression of the virus".
Group limits: (a) indoors, up to four people from no more than two households; and (b) outdoors, up to six people from no more than three households.
Holiday accommodation will be accessible but with restrictions yet to be announced: these might include limiting alcohol sales to residents.
Indoor takeaway food collections resume.

17 May

Hopsitality venues open:

Indoors until 10.30 pm with alcohol sales, but with a two-hour dwell time; and
Outdoors until 10 pm with alcohol permitted.
Cinemas, amusement arcades and bingo halls can open.

Early June

Hospitality to remain open until 11 pm (no further detail available).
Other points
Collection of customers' data for "Test and Protect" purposes will continue,
The Scottish Government "expects" that the attendance limit at funerals and weddings (including receptions) will be raised to 50 from 26 April, but without alcohol.
Trade reaction
Hospitality leaders have reacted unenthusiastically to the timetable with the Scottish Licensed Trade Association expressing "bitter disappointment" and predicting "tough times" ahead. Colin Wilkinson, the Association's Managing Director, said that "these slight lifting of restrictions don't go far enough and, for the majority, reopening will remain unviable".
For nightclubs the news - or rather lack of real news – is even worse. There's no indicative re-opening date; but Ms Sturgeon said she was "optimistic" that a summer date might be possible.
The First Minister's statement can be accessed here.