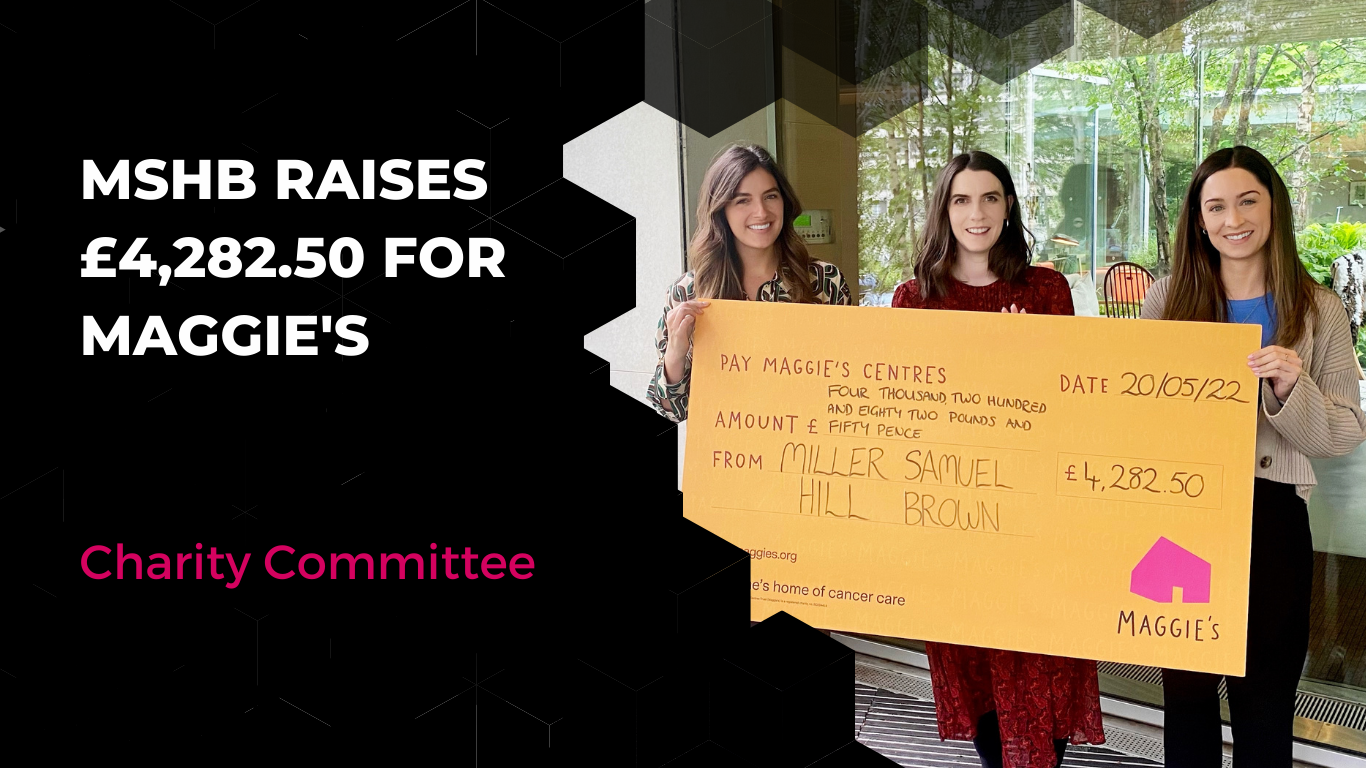 Miller Samuel Hill Brown have presented Maggie's Glasgow, based in the grounds of the Gartnavel General Hospital, with a cheque for £4,282.50 following the Kiltwalk.
The money was raised from the proceeds of the Kiltwalk, which consisted of walking from Clydebank to the Kiltwalk Village in Balloch. The Glasgow event marked the return of the unique fundraising event that allows charities to receive every single penny plus a 50% top up thanks to the generosity of Sir Tom Hunter and The Hunter Foundation.
Jennifer Blair, the charity's Centre Fundraiser for Glasgow, said: "We were absolutely thrilled to receive such an incredible donation and we can't thank our Miller Samuel Hill Brown Kiltwalkers enough for all their hard work and support. These continue to be incredibly challenging times for everyone, particularly for people with cancer and their families, and this donation will help us continue to offer the professional face-to-face support they need now more than ever. Thank you so much to the whole team at Miller Samuel Hill Brown for taking on this challenge and for raising such a fantastic amount to support our centre visitors."
MSHB Charity Committee member and Trainee Solicitor, Anna Fox, said: "Presenting the cheque to Maggie's Glasgow was a great moment as we had the opportunity to visit the centre and witness first-hand the difference that the donations make to Maggie's."
"Thanks to everyone who kindly supported our Kiltwalk challenge we have been able to help Maggie's support people with cancer and their families access vital emotional and psychological support at a time when they need it most. We are delighted with the total amount raised and look forward to our next fundraiser."
This year, our employee-led charity committee voted to support Maggie's to help the charity's efforts to provide support for people living with cancer and their families. Set alongside NHS hospitals, the cancer care-centres bring people together in a calm, friendly, uplifting space. Qualified professionals help people take back control when cancer turns life upside down for anything from treatment side effects to money worries. Through a series of fundraising activities over the course of the year the committee hopes to raise thousands for Maggie's Glasgow.