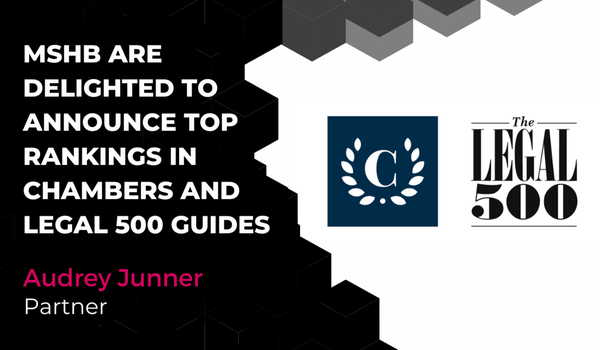 Our Licensing department are once again celebrating a great result in the latest published guide to the legal profession, Chambers and Partners UK Guide 2023, as well as in Legal 500 rankings. Retaining our top tier rankings yet again highlights our consistently high levels of professionalism and capabilities as a law firm.
The Licensing team have consistently been a Band 1 rated department in both guides for over 20 years, and Jack Cummins, our Licensing Director, retains his ranking as a Leading Individual in The Legal 500 and the coveted Senior Statesperson rank in Chambers.
Retaining her rankings as a Band 1 Licensing Solicitor in the Chambers Guide as well as once again being recognised as a Leading Individual in The Legal 500, Partner and Head of our Licensing Division Audrey Junner had this to say regarding the recent published ratings:
"I am delighted to see the team recognised once again in this year's guides. It really is down to their hard work that we are able to deliver a consistently high level of service to our clients during what has been a particularly turbulent time for our clients in the hospitality sector. It is great to see that recognised."
It was also good news for Peter Lawson, Consultant in the Licensing Team, who has also retained his ranking in the Chambers Guide, as well as for Eilidh McGuire who was recognised as a Rising Star in The Legal 500 and as an 'Associate to watch' in the Chambers Guide.
Our client testimonials further reinforce the department's much deserved rankings, and we'd like to congratulate the team and thank all our clients for their continued support and feedback:
"The team at Hill Brown are exceptional, they make sure that as a company we are always trading legally which is of paramount importance at all times."
"The team at Hill Brown will go the extra mile at all times."