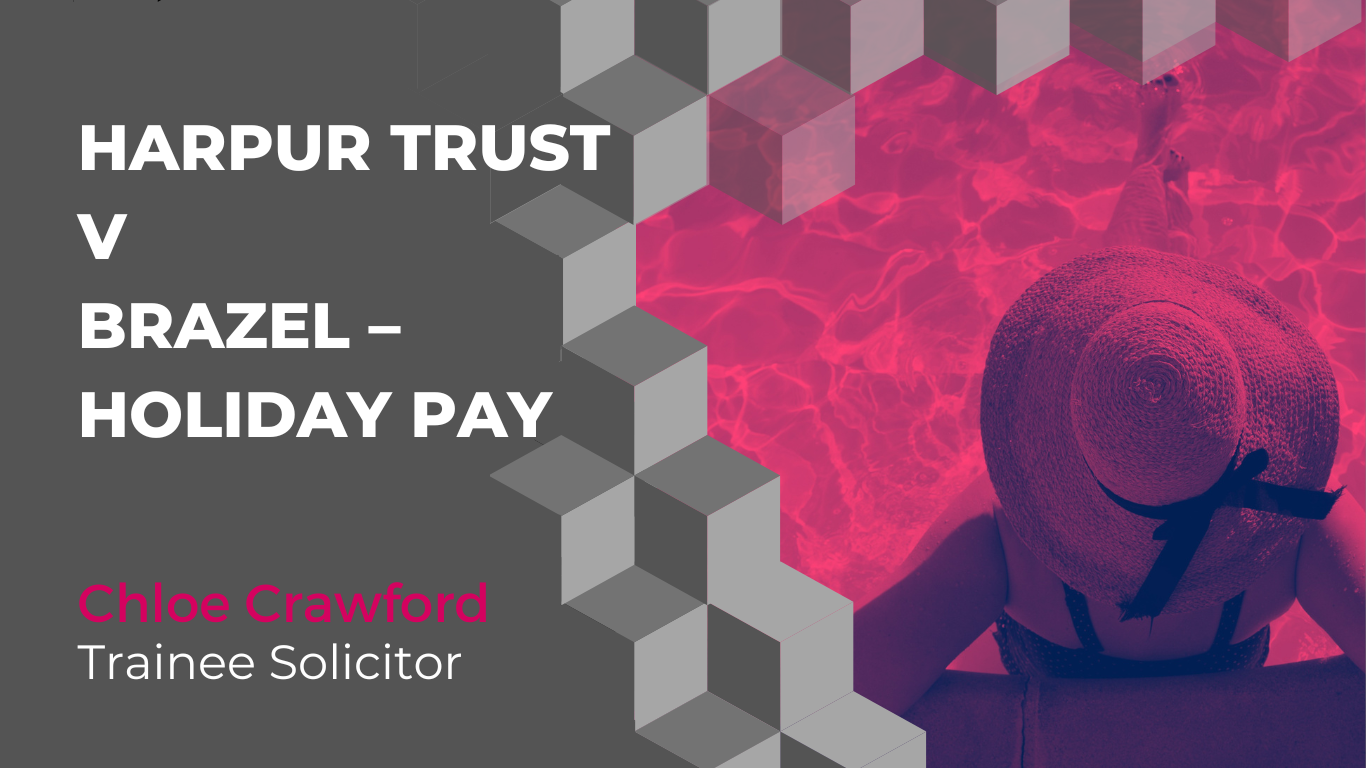 The recent Supreme Court decision in Harpur Trust v Brazel clarifies how holiday pay should be calculated for part year workers with irregular hours on permanent contracts.
The Supreme Court recently decided a case on how holiday pay should be calculated for 'part year' workers, such as those who work term time within schools. This case has potential implications for various sectors where work may be seasonal or irregular.
Facts of the case:
The case of Harpur Trust v Brazel was brought by a music teacher, Ms. Brazel. She worked for the Harpur Trust during term-time at a school and had a permanent contract. She was paid only for the hours she taught during term times. Her hours varied each week as this was dependent on the number of children undertaking music tuition. This meant there were times within the year when she did no work at all. She was a 'worker' within the meaning of the Working Time Regulations 1998 (WTR).
Ms. Brazel's contract stated that she was entitled to 5.6 weeks of paid holiday. Her contract set out that she was required to take her paid holiday outwith school term time, and she was paid for her holidays in three batches each year, operating on the assumption that a certain number of weeks each term was taken as holiday. At the time (the calculation is now different) her holiday pay was calculated using her average weekly pay in the period of 12 weeks ending with the start of her annual leave period, disregarding any weeks which she did not obtain any pay (referred to by the Supreme Court as the 'Calendar Week Method'). However, from September 2011, the method of calculation used by her employer changed. The Harpur Trust calculated Ms. Brazel's hours worked at the end of each school term and took 12.07% of this figure and paid Ms. Brazel her hourly rate for that number of hours, which now constituted her holiday pay (referred to by the Supreme Court as the 'Percentage Method'). This change in calculation method for holiday pay meant that Ms. Brazel received less holiday pay, because, for example, each school term was not necessarily 12 weeks long, and therefore the calculation used a shorter period of earnings.
Ms. Brazel then brought a claim to the Employment Tribunal for the unlawful deduction of wages for underpayment of holiday pay. The Employment Tribunal originally dismissed her claim. However, the Employment Appeal Tribunal allowed her appeal and held that her employer had to use the 'Calendar Week Method', stating"that there was no justification for departing from the clear statutory wording that she should be paid a week's pay for each of the 5.6 weeks' leave to which she was entitled, calculated using the average of the 12 preceding weeks". The Court of Appeal then dismissed Harpur Trust's appeal.
Supreme Court decision:
This case then went before the Supreme Court earlier this year. The Supreme Court dismissed the appeal by the Harpur Trust, rejecting their argument that a part-year worker's holiday should be calculated on a pro rata basis to account for weeks not worked. The Supreme Court concluded "that the Court of Appeal was correct to hold that the 'Calendar Week Method' represents the correct implementation of the WTR". This means that while part-year workers would therefore potentially benefit from disproportionately more holiday entitlement than full-year workers, the WTR could not be interpreted to allow below 5.6 statutory minimum holiday entitlement.
The Harpur Trust based their argument on the principle that part time workers receive annual leave pro-rata to the amount of annual leave that full time workers receive. However, part time workers still receive 5.6 weeks of holiday entitlement, but based on the number of days they would work in a week. Therefore a part time worker who usually works 3 days per week would have a holiday entitlement of 3 days per week x 5.6 weeks. There is no similar calculation which accounts for workers who do not work for parts of the year, and the Supreme Court held that the minimum entitlement of 5.6 weeks still applies to such workers.
The Harpur Trust advanced a number of methods it said should be used to calculate holiday entitlement and pay for part year workers, but the Supreme Court held that there was no justification from departing from the Working Time Regulations.
Implications for employers:
There are a number of implications, which are important for employers to consider. Firstly, the Supreme Court decision will have implications for a number of sectors such as education, tourism and hospitality, who have part-year workers with permanent contracts. Secondly, employers who have part-year workers with irregular hours and use the 'Percentage Method' to calculate holiday entitlement may also be affected, given the Supreme Court decision.
It is therefore important for employers to review how they calculate holiday entitlement for workers with irregular hours who are part-year workers. The 'Percentage Method', which involves a calculation of 12.07% of working hours to work out holiday entitlement or pay, is not uncommonly used for casual and zero hours workers whose hours frequently vary. Given zero hours workers could conceivably not work in a number of weeks of the year, this decision could have implications in these circumstances also.
However, the method for calculating holiday pay where hours are irregular changed in April 2020. Instead of a 12 week period for calculating earnings, it is now 52 weeks (or the entirety of employment if less than a year), meaning that the issues in this case may not arise in practice with as much frequency, as a longer period of earnings is now taken into account in any case. However, this case does clarify that this method of calculation is the one which should be used for part year workers and zero hours workers.
If you would like to discuss any of the issues raised or you require assistance with reviewing contracts of employment and your holidays policy within your staff handbook, please get in touch to speak with one of our experienced employment solicitors, who will be more than happy to assist in this matter.