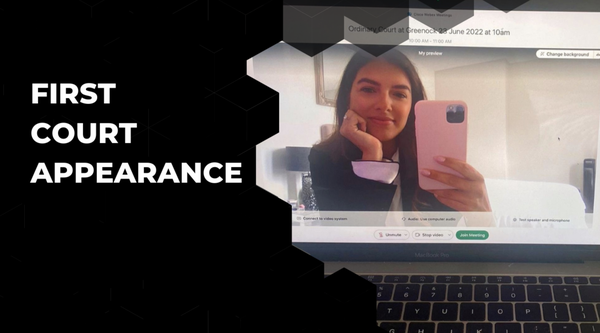 Last week, after securing her restricted practising certificate, our current Litigation and Family trainee solicitor, Anna Fox, made her first two court appearances. Anna appeared (virtually) at Paisley and Greenock Sheriff Courts.
Anna kindly took the time out of her busy schedule to talk to us about her first court appearance.
What type of court hearings did you attend?
Procedural hearings, one was telephone conference call and the other via webex (both virtual).
What did you enjoy most?
I have always been interested in areas of law that are advocacy based – I am very pleased that I have had the opportunity to dip by toe in the water and develop my skills. I look forward to building on this with more complex hearings.
What preparation tips would you give to another trainee attending their first court appearance?
Identify the type of hearing and have the rules in front of you. Know your case back to front and front to back!
Key takeaways​
The phrase is true that proper preparation really does prevent poor performance!
I am really pleased to have begun my career as a 'proper' litigator after making my first two court appearances and I am looking forward to making many more!