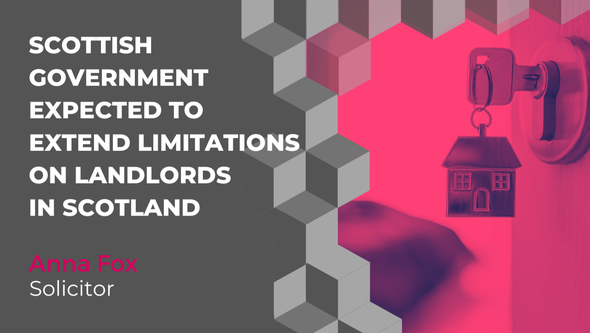 It is anticipated that the Scottish Government will be extending the current eviction ban in Scotland until at least 30 September 2023. The ban has been in place since 6 September 2022 and was due to end on 31 March 2023.
The ban was initially put in place last year by the enactment of emergency legislation as a result of the Cost of Living Crisis. The legislation allows ministers with approval to extend the ban for up to two further period 6 months, the Scottish Government have confirmed that they will be seeking approval from parliament to extend the ban until at least 30 September 2021.
The emergency legislation renders any eviction during this time unenforceable in most circumstances. For landlords with Private Residential Tenancies this means that if you are seeking to evict a tenant there is only a limited number of circumstances where eviction will be enforceable. The legislation creates three new grounds of eviction which can be relied on while the ban is in place:
Landlord intends to sell property to alleviate financial hardship
Landlord intends to live in the property to alleviate financial hardship
Tenant is in substantial (6 months) rent arrears
For the Tribunal to be satisfied that a landlord meets these grounds they must produce evidence of financial hardship and their intention to sell or live in the property. If the tenant is in substantial rent arrears there are pre-action requirements landlords must comply with. There is therefore a heavy burden placed on landlords seeking to rely on these new grounds.
However, the eviction ban only prevents eviction orders from being enforceable. Landlords can still serve 'notice to leave' on their tenants using any of the usual 18 grounds of eviction and complying with the requisite notice period. If the tenant does not vacate the property after expiry of the notice period then landlords may still apply to the Tribunal for an eviction order in the usual way. The key point is that if an eviction order is granted by the Tribunal (when relying on any of the usual 18 grounds), that order is not enforceable while the ban is in place for a period of 6 months or until the ban is lifted (whichever comes first).
Our litigation team has experience in dealing with landlord and tenant disputes and act for landlords across Scotland. If you would like advice or assistance with any aspect of landlord and tenant law please get in touch with our litigation team.