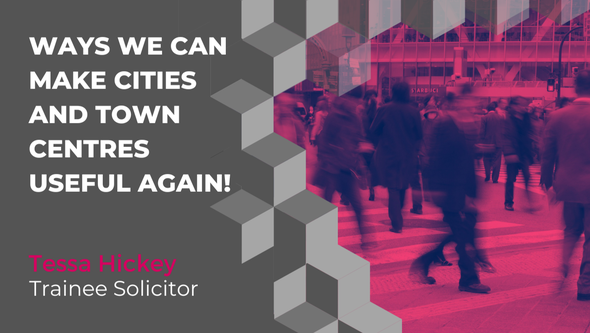 There has been some discussion within the Scottish Government about the introduction of a single Use Class for premises within cities and town centres. The hope is that it will rejuvenate and encourage people to spend more time and invest in town centres, particularly after the Coronavirus pandemic.
In this blog I touch on some of the main discussions that surround the idea of a merged Use Class and the impact this may have within the commercial property sector and cities as a whole!
What are Use Classes?
Use Classes are contained within The Town & Country Planning (Use Classes) (Scotland) Order 1997 ('1997 Order'). The 1997 Order groups similar types of use together into separate classes. For example, Class 1 groups together premises that are used for shops, Class 2 groups together financial and professional services, and Class 3 groups premises used for selling food and drinks, such as restaurants. Currently, if a landlord wanted to change the Use Class applicable to their premises to another use within a different class (such as converting an office into a shop) they have to obtain planning permission. Arguably, having to obtain planning permission to change or convert the use of a property can be a burden for landlords and developers as it can add more time and expense to a development.
What are the changes that are being proposed?
Permitted Development Rights ('PDR') is a scheme where planning permission is granted through national legislation. This means that certain developments can be carried out without the need for planning permission to be granted. The Scottish Government carried out a 12 week consultation as part of a wider programme to review and reform PDR and planning regulations. One of the proposals was to create a "general town centre Use Class." A "general town centre Use Class" would bring together uses which are currently in different classes. A relaxation on these planning rules could provide greater flexibility for the conversion of certain premises into cafes, restaurants, or small-scale offices. This mechanism could create more room for development and investment in town centres and therefore more business for those involved in commercial property.
What could the impact of a 'merged Use Class' be?
Planning Minister Tom Arthur said:
"These measures will support Scotland's town and city centre businesses to thrive.(1)
Within the consultation mentioned above, 68% of those answering considered that a merged Use Class would help to support the regeneration, resilience and recovery of Scotland's centres.(2) The Coronavirus pandemic and subsequent lockdowns has meant hybrid working and online shopping has become 'the norm'. A relaxation on planning rules may provide many industries with a much needed boost and improve their ability to adapt to our rapidly changing society. Reforming the change of use provisions could also encourage the reuse of vacant premises and welcome the return of office workers and shoppers into cities and town centres.
On the other hand, the Scottish Government has expressed some concern over having a "general town centre Use Class." A noteworthy concern is that a lack of planning control could lead a clustering of uses rather than a diverse range. Furthermore, it would make it difficult for planning authorities to control or mitigate associated impacts of particular types of development (e.g. noise, transport) through planning obligations.(3) That being said, adequate safeguards could be put in place to limit any abuse of the system. For example, one of the proposals within the consultation was to enable more cafés, bars and restaurants to offer outdoor eating and drinking without the need to submit a planning permission application. In order to monitor and control this proposal, the Planning Minister ensured that the Councils would retain powers to prevent and deal with obstructions that make it difficult for people to access pavements safely and effectively. It could be that the Government implement certain restrictions or exclude certain use classes from being added to prevent any negative impacts that a flexible use class would cause.
How could the changes in use affect the commercial property industry?
A similar reform to the Change of Use has been implemented in England with the introduction of Class E. Class E includes a broad and diverse range of uses which principally serve the needs of visiting members of the public. A more flexible Use Class regime would will allow Scotland us to align its structure with England. Furthermore, the reform could lead to more opportunities for landlords, occupiers, investors and developers by bringing the primary commercial uses into a single Class. The proposals were laid before the Scottish Parliament on Friday the 10th of February and will undergo parliamentary scrutiny, therefore, it is unclear whether this proposal will be brought into force. What is clear is that there is a need for more flexible planning regulations so that cities and town centres can recover from unprecedented events such as COVID-19. It is an interesting proposal and, for those in the commercial property sector, it could be something to keep a look out for!
(1) Flexible planning rules - gov.scot (www.gov.scot)
(2) Permitted Development Rights review - phase 2: consultation analysis - gov.scot (www.gov.scot)
(3) COULD A NEW TOWN CENTRE 'USE CLASS' SUPPORT OUR SCOTTISH TOWNS AND CENTRES?, Rhiannon Moore (montagu-evans.co.uk)