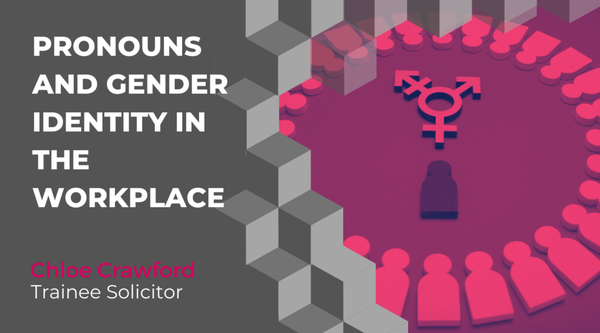 Pronouns are the way we refer to one another's gender identity, for example he/she/they. Using a person's chosen pronouns in the workplace is a basic courtesy and everyone deserves to have this respected in the workplace. Therefore, pronouns and gender identity are important considerations for employers when maintaining a positive and inclusive workplace.
Work policies
As an employer, it is important to reflect on whether you should encourage staff to add pronouns to their email signatures. It is also integral to consider whether you, as an employer understand all the different expressions of gender identity in this regard. Adding pronouns to email signatures began in academia and has now expanded into a wide variety of sectors.
While some employees may make a choice to express their pronouns, other may not. Across the sectors, employees are being asked to put down their preference not only in emails but also within the context of meetings, and social media profiles such as LinkedIn. It is important to consider whether company wide policies on pronouns and gender identity in fact breach equality legislation. By mandating that employees declare their pronouns or creating scenarios where introducing pronouns is unavoidable, it could be argued that this can exclude those who do not want to disclose their pronouns. However, it is important to note that others contend that it creates inclusivity and openness. These are crucial factors to consider when creating company wide workplace policies.
Contentious case law
This topic of pronouns and gender identity has become contentious in the context of the workplace. The extent of this contention is reflected in the guide created by the campaign group 'Sex Matters' on the use of gender pronouns in the work environment. This campaign was created by Maya Forstater, who won her appeal tribunal case on gender self-identification (Maya Forstater v CGD Europe and Others: UKEAT/0105/20/JOJ). Maya Forstater put forward a claim for discrimination after being dismissed by her employer for saying that transgender women are male or 'honorary female'. She contended that sex is unchallengeable and should not be confused with gender identity. In her appeal, the Judge ruled that Maya Forstater's comments were protected as a 'philosophical belief' within the meaning of the Equality Act 2010. It is essential to consider how a 'philosophical belief' is established. To be a 'philosophical belief' the following criteria must apply (this test was established in Grainger plc and others v Nicholson UKEAT/0219/09; [2010] IRLR 4):
The belief must be genuinely held;
It must be a belief and not merely an opinion or viewpoint based on current available information;
It must be a belief as to a weighty and substantial aspect of human life or behaviour;
The belief must have a certain level of cogency, seriousness, cohesion and importance; and
It must be worthy of respect in a democratic society and it cannot be incompatible with human dignity and cannot conflict with the fundamental rights of others.
In Maya Forstater's case, the Judge continued, by stating that, comments which would not be protected by a 'philosophical belief' are extreme ones "akin to Nazism or totalitarianism or which incite hatred or violence". The ruling stated that Maya Forstater's "gender-critical beliefs, which were widely shared, and which did not seek to destroy the rights of trans persons, clearly did not fall into that category". While in the case of Maya Forstater, the Claimant's belief may be considered offensive by some, it was held in this case that "beliefs that are offensive, shocking or even disturbing to others, and which fall into the less grave forms of hate speech would not be excluded from the protection". Therefore, this case confirmed that having a gender identity belief and a gender critical belief are both protected by law.
Another example of contention in this area is the case of Dr David Mackereth v (1) The Department for Work and Pensions (2) Advanced Personnel Management Group (UK) Ltd. The Claimant is a Christian, who is currently appealing against a Tribunal decision which concluded that he was not discriminated against on the grounds of religion or belief when he was dismissed by his employer for declining to address his transgender patients by their chosen pronoun.
These cases highlight some challenges faced by employers who are looking to create a workplace which is inclusive.
If you would like to discuss any of the issues raised or you think it may be beneficial to have a policy drafted, please get in touch to speak with one of our experienced employment solicitors, who will be more than happy to assist in this matter.