MSHB brave the hot coals for Maggie's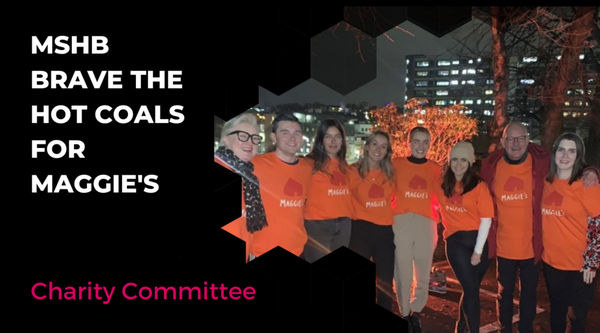 This year, our employee-led charity committee voted to support Maggie's to help the charity's efforts to provide support for people living with cancer and their families. Throughout this year we have undertaken a number of fundraising events, with the firewalk being our final fundraiser of the year.
On Wednesday the 30th of November, a number of the MSHB team, as well as Andy Thomson from Guarino & Thomson Solicitors, braved the heat and walked barefoot over hot embers in aid of the MSHB chosen charity of the year, Maggie's. This event was organised by Blaze, who walked us through pre-firewalk training to prepare us for the event. This included equipping us with various mindset exercises to help keep us positive and focused before walking over the hot embers. We watched the fire being lit – which burns at an average temperature of 1236 degrees Fahrenheit! This was an amazing event to be part of and a really positive experience.
This proved to be a successful event, which has raised just over £1000 for Maggie's. Thank you to everyone who donated.