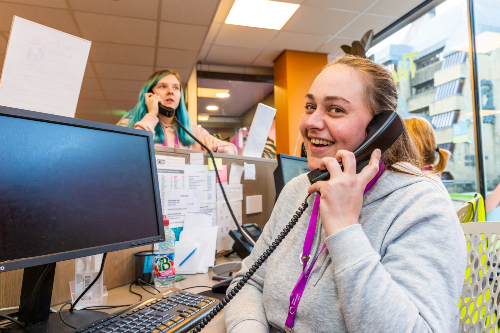 Miller Samuel Hill Brown are delighted to have supported Simon Community as our charity over a two-year campaign from 2020. Initially, the fundraising campaign was impacted by the pandemic however the team put their best feet forward in a bid to raise much needed funds for people who are experiencing homelessness or are worried about their accommodation. Holding bake sales that showed unexpected talent; racking up a staggering 3,991,774 steps for the Steps Challenge; and taking part in the Virtual Kiltwalk. In the run up to Christmas, the team also organised a collection and donation of most needed items to support service users at a particularly difficult time of year.
The team are proud to say that their fundraising has provided someone who needs a safe place to sleep a "moving in pack" to make an empty house a home; a day's training to build skills and confidence; food and a night in safe accommodation; a welcome pack with food, toiletries, new underwear and a t-shirt for someone who arrives with nothing; a hot meal, shower and warm clothes for someone living on the streets.
Eilidh McGuire, Senior Associate, said, "We are delighted to have been able to support Simon Community over the last two years, during an especially trying time for charities. They carry out fantastic work in the Glasgow area and across Scotland, and everyone at the firm is so pleased to have been able to assist them in this".
ABOUT SIMON COMMUNITY SCOTLAND
Simon Community Scotland support adults and young people who are homeless and sleeping rough by providing them with emergency shelter as well as homes in the community. By working with people facing these extremely difficult circumstances they address the underlying reasons for their homelessness and get the support they need to recover and thrive.
With a range of services and initiatives available across Glasgow, Edinburgh and Central Scotland, the help on offer includes:
Advice and information
Help to find accommodation in a crisis or something more long-term
Help with keeping your accommodation/tenancy
Company and/or advocacy when you need to visit or call a service
Life skills learning group (e.g., allotments, literacy, healthy eating)
For more information, please visit Simon Community Scotland.