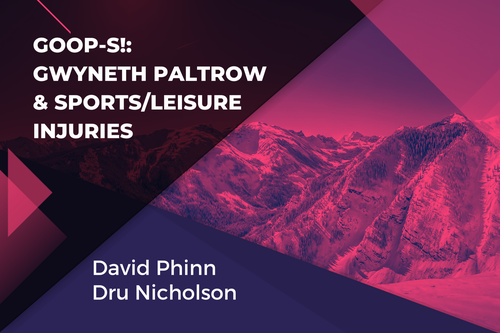 Perhaps the highest profile case in the global litigation sphere of late was that of actor and owner of lifestyle brand Goop, Gwyneth Paltrow. Following a skiing accident in Utah in 2016, retired optometrist Terry Sanderson raised an action against the Academy Award winner seeking damages of $300,000, having previously failed in an action against her for $3.1m.
Mr Sanderson accused Ms Paltrow of negligently causing a crash, which he purported to have inflicted life-changing injuries on him. The accounts of both parties differed significantly with the jurors ultimately finding Ms Paltrow to be the downhill skier and therefore having had the right of way.
Although that case was litigated in the courts of Utah, it is a timely reminder of the factors to consider if you are injured while participating in a sporting/leisure activity and when you can make a successful claim.
Establishing Liability
You could be entitled to claim compensation for a sporting/leisure injury if you were owed a duty of care, an accident occurred due to another party failing to comply with that duty of care and you suffered an injury as a result.
A key aspect of any claim of this nature is having sufficient evidence to substantiate your account of events and to show causation i.e. another party's negligent actions caused your injuries. Using the Gwyneth Paltrow case as an example, on the face of it Mr Sanderson's case was a viable one as he alleged that another skier, Ms Paltrow, had acted dangerously or carelessly causing the crash and his injuries. However, Mr Sanderson did not have sufficient evidence to substantiate his position in the eyes of the jurors. The jury was instead persuaded by Ms Paltrow's evidence.
A category of claim that the governing bodies of contact sports in particular have been grappling with in recent times is former players seeking compensation having developed degenerative conditions attributable to repeated head injuries/concussions. The National Football League (NFL) in the USA famously settled a class action raised by 4,500 former players for a figure estimated to be around $800m in 2013. World Rugby currently stares down a similar barrel. Whether these claims filter down to the amateur levels of contact sports is yet to be seen.
Who can be claimed against?
The exact circumstances of the accident will determine who may have owed a duty of care and who a claim could or should be brought against.
Examples of parties who a claim may be brought against:
Another Participant - if they act dangerously or carelessly.
The Organiser - if they did not properly comply with the health & safety standards.
The Venue - if they also fail in their health & safety obligations.
Instructors - if they act carelessly or provide you with poor guidance resulting in an accident.
Insurers – it may be possible to claim against insurers of the above parties but this will depend on the circumstances of the accident.
Where to make a claim?
Usually, a claim will be made in the jurisdiction where the accident occurred, however there may be instances where another jurisdiction can entertain the claim – for example, if you book an overseas activity through a UK operator then you may still be able to raise an action here. A solicitor should always be consulted in respect of where a claim should be raised. The rules regarding how to make a claim will differ depending on the local laws applicable, with varying timescales and deadlines in operation.
How much compensation can I expect to receive?
This will vary significantly from case to case. The key factors taken into consideration will be the severity of injuries and the level of loss (financial and otherwise) incurred as a result.