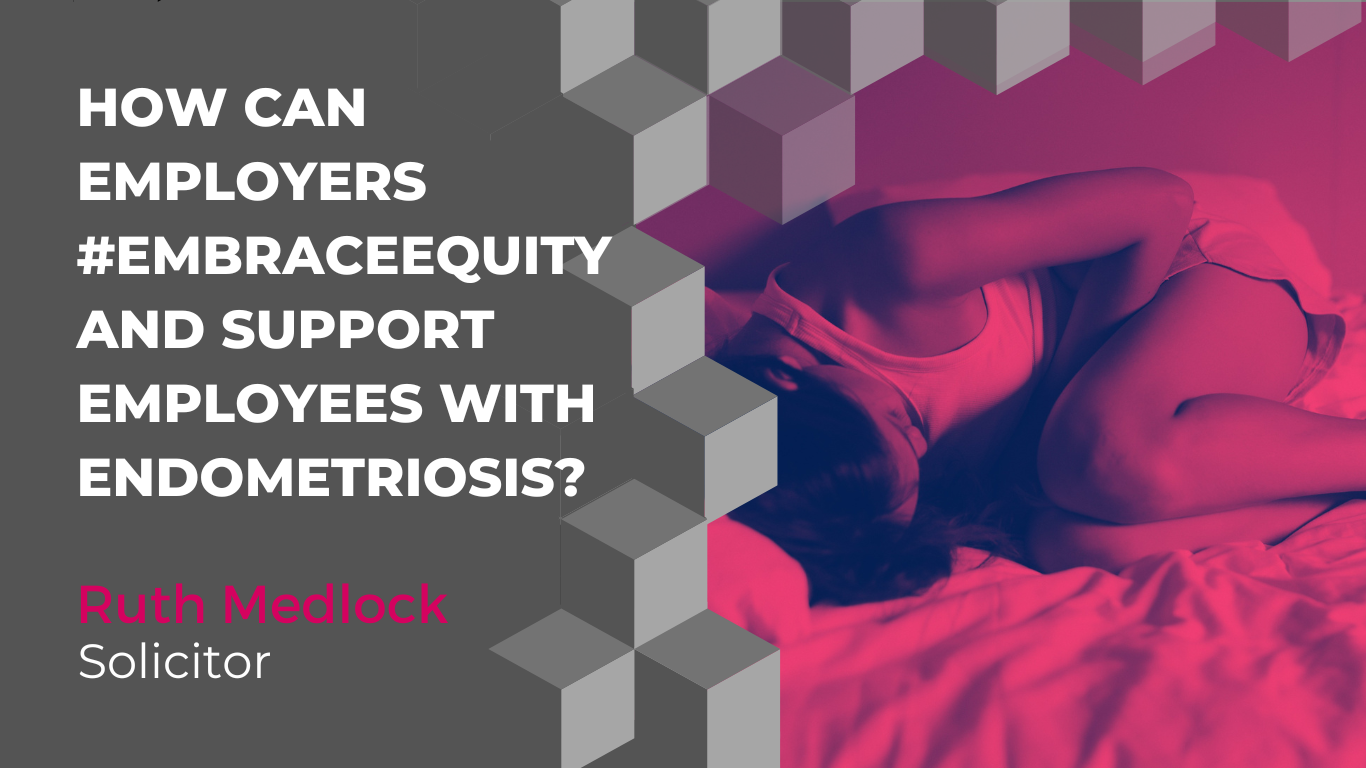 Endometriosis is a chronic, and sometimes debilitating, condition that has received more acknowledgment and appreciation over the past few years. What may surprise many readers is that endometriosis is estimated to affect approximately 1 in 10 women and those assigned female at birth in the UK. March is 'Endometriosis Awareness Month', which aims to raise awareness of this condition and to advocate for better support for those who are living with it.
In this article, I will discuss how employers in the UK can support employees with endometriosis, and what legal obligations they have to do so.
What is Endometriosis?
Endometriosis is a condition where tissue similar to the lining of the uterus grows outside of the womb. This tissue can then grow on a woman's ovaries, fallopian tubes etc. Due to this, endometriosis is widely known to cause chronic pain, heavy periods and fertility issues. However, some women can also experience fatigue, nausea, and bowel or bladder problems. As the symptoms of endometriosis and their severity varies for each woman, endometriosis can consequently impact employment.
Endometriosis can affect women of any age and unfortunately, there is no cure for it.
With the above in mind, it is consequently important for employers to understand the impact of this condition and what they can do to support their workforce.
How does Endometriosis affect work?
Depending on the severity of a woman's symptoms, endometriosis can have a potentially significant impact on her ability to carry out their job role. For example, the pain often incurred with endometriosis can cause a difficulty to concentrate or carry out physically demanding tasks for long periods of time. As a result, women with endometriosis are more likely to take time off from the workplace and consequently have higher sickness absence levels at no fault of their own.
Employers' legal obligations
As you may be aware, employers in the UK have a legal obligation to make reasonable adjustments to support employees who are or are likely to qualify as disabled for the purposes of the Equality Act 2010. Endometriosis can be considered a disability under the Equality Act 2010 if 'it has a substantial and long-term adverse effect on a person's ability to carry out normal day-to-day activities'.
In line with my previous article on IWD's #EmbraceEquity this year, employers should look to assess how their workforce may be affected by endometriosis and considering some of the following reasonable adjustments if required:
● flexible working – referring employees to the flexible working policy and/or homeworking policy;
● emotional and physical support – do you offer any employee assistance programs for your employees to utilise? If not, are you referring employees to 'Endometriosis UK' and their support functions?;
● Providing training to your workforce to educate your employees on endometriosis and how colleagues may need support in man different ways.
Therefore, it is good practice for you to ensure that you have 'Equal Opportunities' and 'Bullying Harassment' policies within an employee/staff handbook to deter any form of potential harassment and discrimination in the workplace. It may also be prudent for you to consider implementing an employee policy addressing endometriosis specifically.
Our employment team have a vast experience of assisting employers with queries on their obligations to employees. If you are interested in any updates in this movement, creating a policy for this subject matter or you need some bespoke advice about a specific situation please do not hesitate to get in touch.