Changes to Glasgow outside seating consents for 2023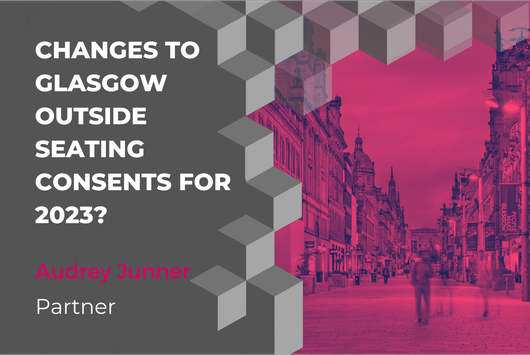 Glasgow City Council have recently confirmed there are two significant changes to temporary Street Café permits, also known as Section 59 consents.
As of the end of March, planning permission will no longer be required as part of the application process due to changes to permitted development rights; and
A new fee structure is being introduced. The fees payable to for permits will no longer be calculated on a flat fee basis. The changes will see the introduction of a proportionate charging structure that is based on the dimensions of the outside space. Accordingly, the application dues will be calculated as follows:
| | |
| --- | --- |
| Band | Cost (£/m²) |
| City Centre | 60 |
| Major Town Centre | 30 |
| Neighbourhood (All Other Areas) | 15 |
The breakdown of the boundary details applicable to each application can be found here. Glasgow City Council have also confirmed that due to the upcoming UCI event scheduled to take place from 3rd – 13th August, there will be a requirement for certain outside seating areas to be removed to facilitate event-related activity. Any outside space affected by the removals will receive more detailed information ahead of the event.
Applications for permission to site a Temporary Street Café during 2023/24 must be made online. Any business who wishes to operate with a permit from 1 April this year are encouraged to lodge their application as soon as possible.
If you would like assistance on obtaining a temporary street café in Glasgow or any other points arising from this article, please contact our expert team at Hill Brown Licensing.