Employment Contract Lawyers Glasgow, Scotland
Every employee will work under terms and conditions of employment. The most obvious way in which these terms and conditions are agreed between an employer and an employee is by the employer issuing a written document which covers all of the more fundamental terms which will apply during the employment relationship. Our specialist Glasgow based employment law solicitors can advise on employment contracts for clients across Scotland.
Contact our award winning employment lawyers for employment contract legal advice and representation today on 0141 221 1919 or fill in our online contact form.
"Thank you very much for your excellent advice and support throughout the whole process, which I have valued greatly."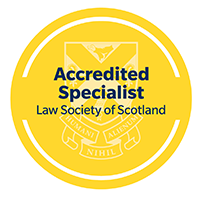 What is a statement of employment particulars?
As a minimum, an employer has a statutory duty to provide an employee with a written statement of employment particulars which confirms certain basic information in respect of the employment. This statement should be provided within 2 months of the start of employment and includes:
The names of the parties;
The date when the employment began;
Job title;
The employee's rate of pay and the intervals at which this payable;
Hours of work;
Holiday entitlement;
Notice entitlement with regards to termination of employment;
Details of any rules that apply to sickness absence; and
Any pension entitlement.
However, there are a number of other matters which the parties may wish to regulate, so as to ensure all terms and conditions which are agreed upon are properly set out.
By issuing a more detailed contract of employment, an employer can ensure parties properly understand their rights and liabilities, which can avoid costly disputes from arising further down the line.
In certain situations, an employer will have no ability or discretion to act in a particular way during the employment relationship if they do not have a contractual right to do so. Accordingly, covering further areas such as:
Post termination restrictions
Details of any enhanced sick pay scheme can be of real benefit.
Policies and Procedures Document Drafting
Additionally, we can also assist in providing other policies and procedures that may be required to ensure the smooth running of the workplace. Whether a full staff handbook is or a particular policy is required, we are happy to help and can assist with policies and procedures for the following (amongst others):
Discipline
Grievance
Equal Opportunities
Absence management
Performance management
Flexible working
IT Systems
Use of Social Media
Adverse weather; and
Anti-Bribery
Contact our Contract & Employment Law Solicitors for Glasgow, Edinburgh, Aberdeen, Dundee & Across Scotland
We can provide expert employment law assistance and advice. Call us today on 0141 221 1919 or fill in our online contact form.