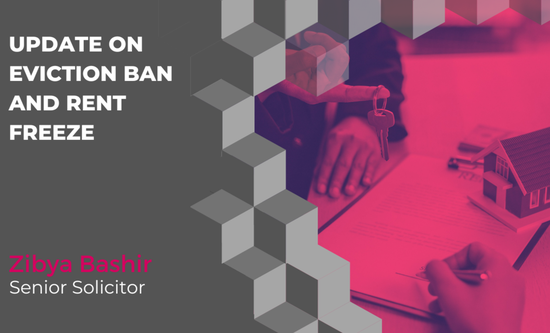 Since the First Minister's announcement on 06 September 2022 about a rent freeze for public and private properties and a ban on evictions until the end of March 2023, I have been contacted by clients on a daily basis seeking clarity on what they can/cannot do. In what some may describe as typical Scottish Government fashion, the announcement was lacking in detail.
In recent days, however, some clarity has been provided. As I have been advising clients, landlords are not prevented from taking action if needed. This means the relevant notice(s) to terminate tenancies can still be served and upon their expiry, an action for an eviction order can still be raised at the First Tier Tribunal for Scotland (Housing and Property Chamber) (FTT). There is also presently nothing preventing the FTT from determining applications and granting eviction orders.
Not all evictions will be banned. Evictions for anti-social behaviour, criminal behaviour, mortgage lender repossession and abandonment will likely be allowed. Further exemptions may be added to this list. Whilst it is understood that the eviction ban will be in place until 31 March 2023 it is very possible that the ban may be extended beyond this date.
With regards to the rent freeze, rent increase notices issued before 6 September 2022 are expected to be enforceable as normal. Any rent increase notices issued from 6 September 2022 until 31 March 2023 are effectively void. The rent freeze will likely only apply to mid tenancy rent increases. This means that a landlord's ability to apply a rent increase between tenancies is unlikely to be affected. Again the rent freeze may be extended beyond 31 March 2023. Safeguards may be put in place to allow rent increases in exceptional circumstances for example, where a landlord can demonstrate they will suffer extreme financial hardship in the absence of a rent increase.
Apparently the Scottish Government is still looking at how to support those landlords who are negatively impacted by these policies but to date, no information has been forthcoming. The legislation governing these policies is expected to come into force in the next few weeks. As always the devil will be in the detail.
Of course raising an action for an eviction order is not the only option available to landlords. In circumstances where a tenant is in rent arrears, a landlord can raise proceedings for a payment order and there are several enforcement options available such as, for example, an earnings arrestment, a bank arrestment and even sequestration (bankruptcy).
For further advice in relation to the Scottish Governments' recent announcement and proposed legislation or any other landlord/tenant issues/disputes please do not hesitate to contact Zibya Bashir on This email address is being protected from spambots. You need JavaScript enabled to view it. or by phone on 0141 221 1919.