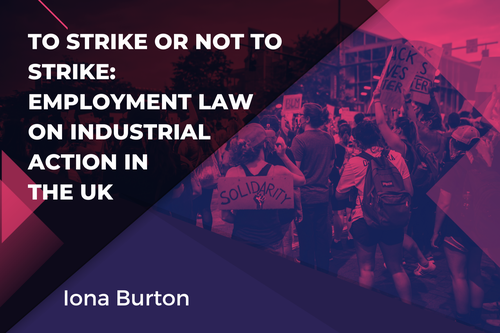 With the inflation rate at the highest level in forty years, and employers struggling to keep wages in line, the UK is currently facing the largest number of strikes since 1989. There is no positive legal right to strike within the UK, however, the law does provide a defence (statutory immunity) for those who take part in any lawful industrial action. As the discontent continues amongst workers in 2023, and further strikes are scheduled, employees and employers should be aware of the procedures which must be followed for a strike to be consider lawful.
What is considered lawful industrial action?
The action must be organised by a trade union.
The action must be in relation to a trade dispute that exists between workers and their own employers. The issue must also be wholly or mainly about employment related matters such as pay, conditions, allocation of work etc.
The trade union must organise a ballot and there must be appropriate notification made to the employers about the ballot and the outcome. In order for a strike to go ahead, there must be a minimum 50% turnout of those entitled to vote, with a majority voting in favour. Following this, the strike should take place within 6 months or 9 months if both parties agree.
Employers must be adequately notified of any anticipated strike action. This notice must be given no less than 14 days of any industrial action taking place. The notice period can be reduced to 7 days upon agreement with the employer.
Protection from unfair dismissal
Where an employee is taking part in a lawful industrial action, as discussed above, it will automatically be considered unfair to dismiss this employee for doing so. If an employee believes they have been unfairly dismissed for taking part in industrial action they may be entitled to bring a claim in the Employment Tribunal.
Picketing
Whilst on strike, employees are permitted to gather at, or near, their place of work to peacefully demonstrate why they are striking. They are not, however, permitted to call for, or threaten to call for, the inducement of "secondary" industrial action and to do so will result in a forfeit of any statutory immunity. It is therefore always advised to have a trade union official present at any picket line to ensure picketing is managed correctly and lawfully.
New proposed anti-strike law
In response to the mass industrial action the UK is facing, the government are now seeking to introduce a new anti-strike law. This will allow the government to set minimum levels of service which must be met during strikes in a bid to ensure public safety and reasonable access to public services. The effect of these new laws will mean some employees could have their employment terminated if they take part in industrial action that has been appropriately and democratically organised.
Despite there being no positive legal right to strike in the UK, these new anti-strike laws could be seen as a breach of individual's human rights, specifically Article 11 of the ECHR which guarantees a right to freedom and association, including the right to form trade unions. Governments are permitted to restrict these rights, but only so far as necessary in a democratic society. This begs the question, is it fair and proportionate to dismiss employees for taking part in correctly organised industrial action or is this a blatant breach of the individual's human rights?
Our employment team have a vast experience of assisting employers and employees on their rights and responsibilities. If you are interested in any updates in this movement or need some bespoke advice about a specific situation please do not hesitate to get in touch.