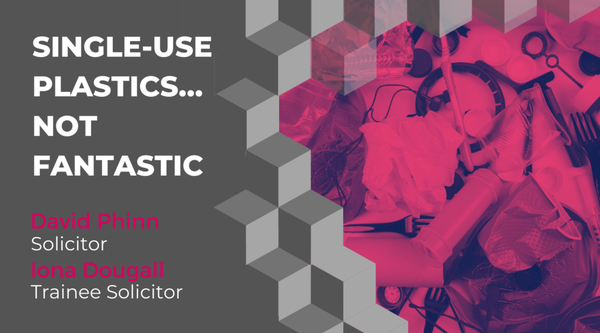 Just in time for plastic free July, Scotland has become the first part of the UK to ban many single-use plastics. The legislation, The Environmental Protection (Single-use Plastic Products) (Scotland) Regulations 2021, came into force on 1 June 2022.
The legislation makes it unlawful for businesses to commercially make and supply: cutlery (forks, knives, spoons, chopsticks and other similar utensils); plates; beverage stirrers; food containers made of expanded polystyrene; cups and lids made of expanded polystyrene. There is an exemption for plastic straws to ensure that those who need them to eat or drink independently or for medical purposes still have access to them.
Businesses should therefore ensure that they are complying with the new legislation now. For those in the drinks and hospitality sector, it is also important to be aware of how the new regulations affect their operation in terms of complying with board policy on safety products in late opening premises. To date, there is no ban on disposable plastic cups or coffee cups, but the Scottish Government is in the process of establishing an advisory group to look at potentially levying a mandatory charge which would apply to all single-use drinks containers.
For now, the new rules apply to both online and in-store sales, whether the plastic utensils are free or paid-for. Enforcement of the Regulations is the responsibility of local authorities and failure to comply with the regulations carries a maximum fine of £5,000.
The influence of the Green Party, now in the Scottish Government, is evident in these Regulations and business owners should expect similar measures in future to combat waste in Scotland. While many business owners have already shifted away from single-use plastics, the Scottish Government is clearly signalling they will not be afraid to use law to force all businesses to change if the move towards renewable alternatives is not fast enough.