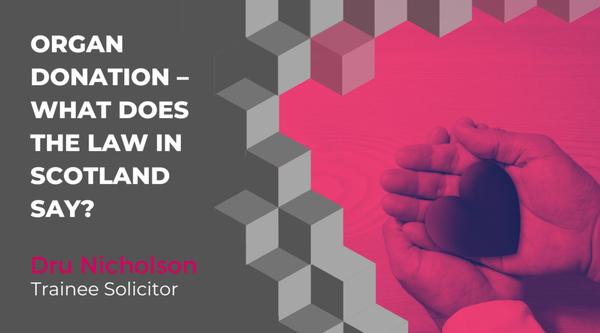 Organ Donation Week ran from 19th to 26th September this year with the objective of raising awareness surrounding organ donation and transplantation, but what does the law in Scotland say on this topic?
The Legal Position
The Human Tissue (Authorisation) (Scotland) Act 2019 came into effect on 26th March 2021 and brought Scotland's position on organ donation broadly in line with that of England and Wales.
The 2019 Act introduced what is commonly known as an 'opt out' system, meaning all adults residing in Scotland are automatically deemed to have authorised donation of their organs unless they have specifically opted out or are part of an 'excluded group'. The excluded groups include adults who have lived in Scotland for less than 12 months prior to death and adults who are incapable of understanding the nature and consequence of deemed authorisation. If a person who is a part of an excluded group dies and they haven't already recorded their donation decision, their next of kin will be asked whether they wish to authorise donation or not on their behalf.
The Importance of Family and Recording Donation Decisions
While it will be assumed that those not part of an excluded group have agreed to donation, their family members will always be asked about their latest views on donation, to ensure that donation does not occur contrary to the deceased's wishes. Family members are not, however, entitled to overrule a relative's express decision. The best way to ensure a donation decision is honoured is by recording it with the NHS Organ Donor Register and sharing it expressly with family and friends.