New Builds: the pros and cons of buying a new build property in today's market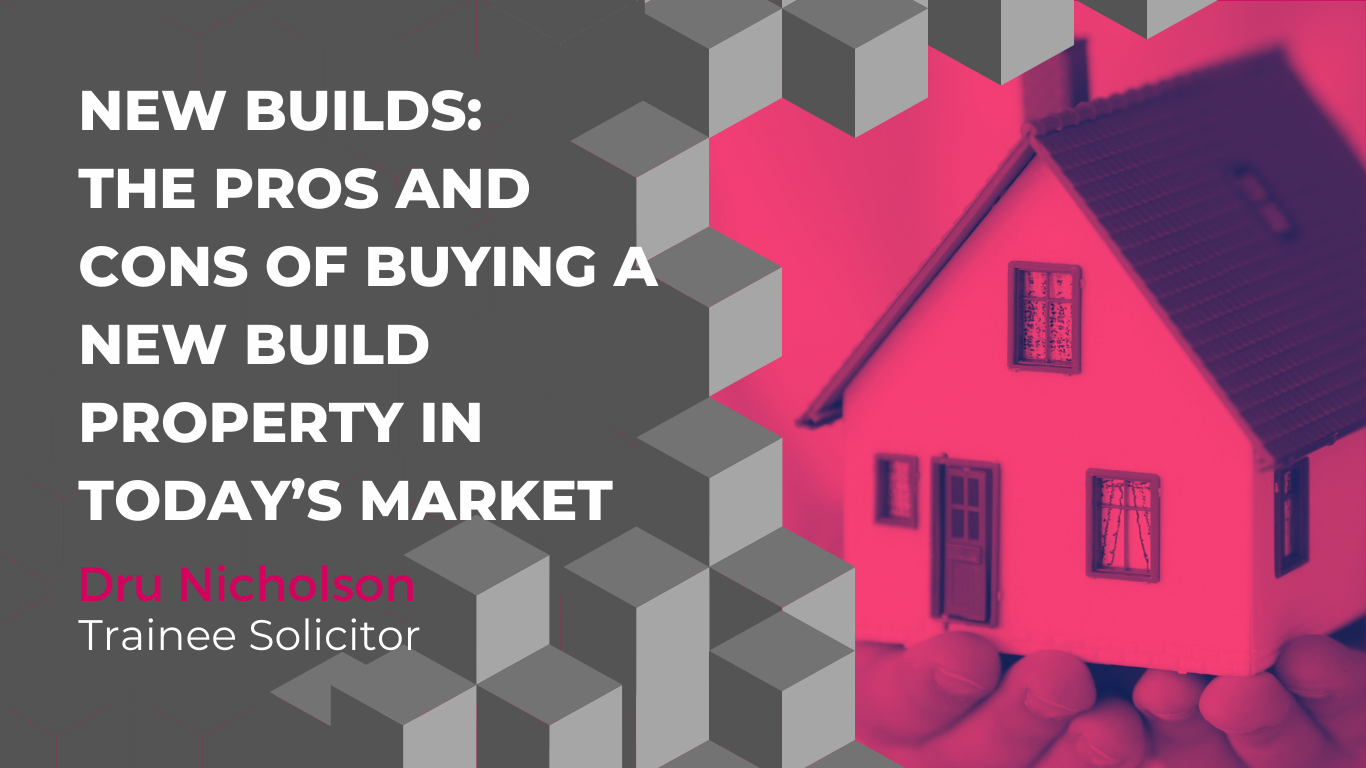 Some like shiny new homes. Some don't. While everyone's taste differs, demand for properties is so high at present that many potential buyers cannot afford to be overly picky and perhaps require to use their heads more than their hearts. If we leave all predilections at the door, what are the pros and cons of buying a new build property in today's market?
Pros
Clarity on Price - Although a premium price is often paid for new builds, one advantage is that this price is fixed. In today's market, sale prices of existing properties are inevitably far higher than the 'Offers Over' figure and it is difficult to gauge what sort of figure will ultimately win the bidding war. Existing properties are also repeatedly sell above the Home Report valuation which causes difficulties for buyers (especially first time buyers with no positive equity) as most lenders will only lend to the Home Report valuation and any surplus has to be paid up front in cash.
Low Bills - New builds are required to comply with the latest building regulations and as such are far more energy efficient. With energy prices continuing to soar this is a significant advantage and may result in substantial savings across the year.
'Chain-free' - As the buyer will be the first owner of the property there is no need to worry about a 'chain'. The purchase is not dependent on several other sales/purchases successfully completing (beyond the buyer's existing property if they have one) which makes the whole process more smooth, less stressful and more dependable.
It's 'New'- Many new builds offer the latest domestic technology and come with open-plan layouts. New build flats, for example, will also sometimes have modern shared services such as gyms or concierges. As everything is brand new it should require less maintenance compared to an older property.
Builder's Warranty - New-build homes usually come with a developer's warranty, typically for 10 years, meaning that if anything goes wrong the builder will be bound to fix it. That being said, many of these types of guarantees do not subsist in full for the whole 10 years and it is important to read the fine print.
Personalisation – Buyers can often have an input on the choice of items such as kitchens, bathrooms and flooring.
Incentives – Some developers will offer extras at no additional cost to secure a sale e.g. a contribution towards Land and Building Transaction Tax.
Cons
Space– Often developers try to fit as many properties as possible onto sites to maximise their profits. This can mean a new-build home is considerably less spacious.
Premium Prices– Many of the advantages of buying a new-build disappear on the day it is purchased. In the short term therefore the value of the property may in fact drop and this is something to be conscious of as a buyer if the intention is not to remain in the property for a considerable period of time.
Maintenance Costs- The roads, footpaths and other shared spaces such as playgrounds within new build developments are not always adopted and maintained by the local council. Residents may have to employ management companies which are often expensive.
Snagging and Defects - Even the best new builds will have snagging issues e.g. uneven tiles, scuffs to paintwork and doors not fitted correctly. Whether it's a structural issue or a minor irritating snag, buyers are likely to have to go back and forth with the developer multiple times before everything is how it should be.
Delays – New builds definitely don't always run to the proposed schedule and it's common for dates of entry to be delayed. For some this might be considered a minor inconvenience however it can add significant stress to the purchase process and lead to additional costs such as those for furniture storage. The COVID-19 pandemic, coupled with Brexit, has meant building materials and labour have been in short supply in the UK.
Contact our Residential Property Lawyers
If you would like to get in contact with us in relation to buying a new build property, or any other type of property for that matter, please get in touch with our Residential Property Department via email at This email address is being protected from spambots. You need JavaScript enabled to view it., by telephone on 01412211919 or complete our online contact form.