All information contain within this update is accurate at the time of publication. During these unprecedented times where the situation is constantly changing at pace it is vital that you take expert advice where necessary. Please do not hesitate to contact us if you wish to discuss any issues covered in these updates further. The Hill Brown Licensing Team and the wider team at Miller Samuel Hill Brown remain committed to providing the fullest possible service for the trade at this extremely challenging time.
CORONAVIRUS CRISIS LICENSING BRIEFING #13
Update 6 July 2020
Social distancing
The First Minister has announced a forthcoming relaxation of the 2 metre social distancing requirement in the hospitality sector.
The change is due to take place when indoor areas are permitted to open on 15 July.
Operators will be expected to take a number of "mitigation measures". An "illustrative" list has been provided to help businesses with their relaunch preparations: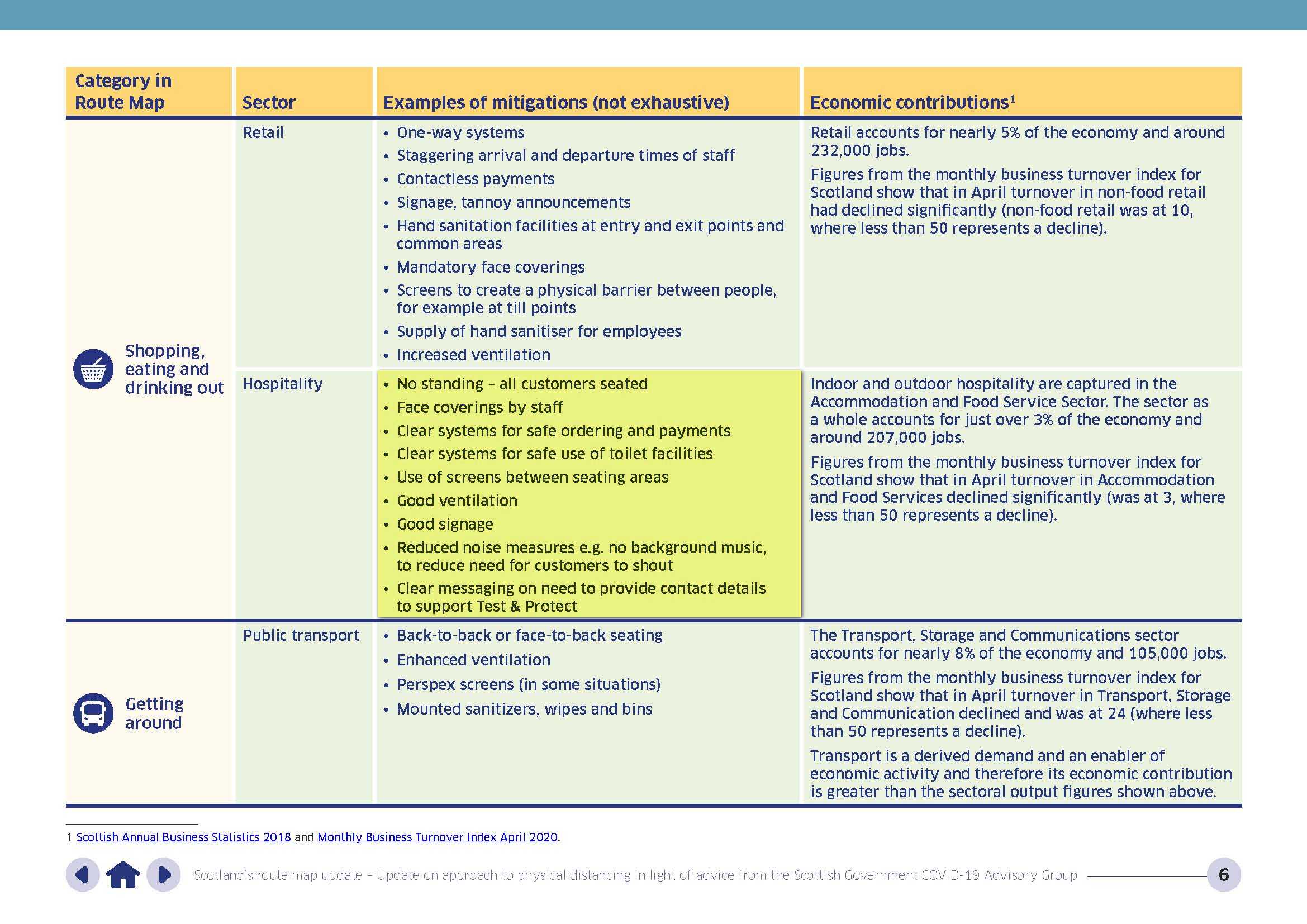 Further, detailed guidance will follow.
Announcing the change, Nicola Sturgeon said:
"[W]e will also insist on clear customer information to help inform the judgements we make as individuals about the risks we are prepared to take.
"So, if a business decides to operate at less than 2 metres, they should provide clear signage informing their customers that they are entering a 1 metre zone…
"[I]f infection levels were to rise again, we reserve the right to re-impose a strict 2 metre rule, either nationally or locally, or take other public health measures that are necessary to keep us safe."
Outdoor areas opening from 6 July must comply with the 2 metre requirement until the reduction comes into effect.
Data collection
The Scottish Government's tourism and hospitality sector guidance has been updated to include guidance on the collection of customers' data.
In summary:
The gathering of data is intended to support the NHS Test and Protect scheme.
Businesses are not legally obliged to collect data but the Scottish Government believes that the measure is "crucial to national efforts to suppress the virus".
Where data is stored electronically (rather than in paper form), businesses must be registered with the Information Commissioner's Office.
A privacy notice should be made available to customers explaining how their data will be handled
Data should be securely deleted after a 21-day retention period.
It must not be used by a business for marketing purposes.
To view our latest guidance on Collecting Customer Details click here.
Please contact us if you require advice in this area from our GDPR experts.
CORONAVIRUS CRISIS LICENSING BRIEFING #12
Update 30 June 2020
Scottish Government publishes guidance on safe toilet opening
The hospitality and tourism sector guidance referred to in our last update has now been revised with the inclusion of a link to guidance on the safe use of toilets. Our analysis of the sector guidance can be downloaded here and takes account of this new guidance.
Businesses gearing up to provide outdoor drinking facilities from 6 July now have confirmation that that indoor toilets may be made available for customers.
But all businesses planning to resume trading in Phase 2 will now require to ensure that their risk assessments reflect the latest guidance and that pre-reopening checks and any necessary works are carried out accordingly.
CORONAVIRUS CRISIS LICENSING BRIEFING #11
Update 26 June 2020
Easing lockdown: Key road map dates announced
The First Minister has now announced a number of key dates on the path to the re-opening of the hospitality and tourism industry. A revised road map has also been published: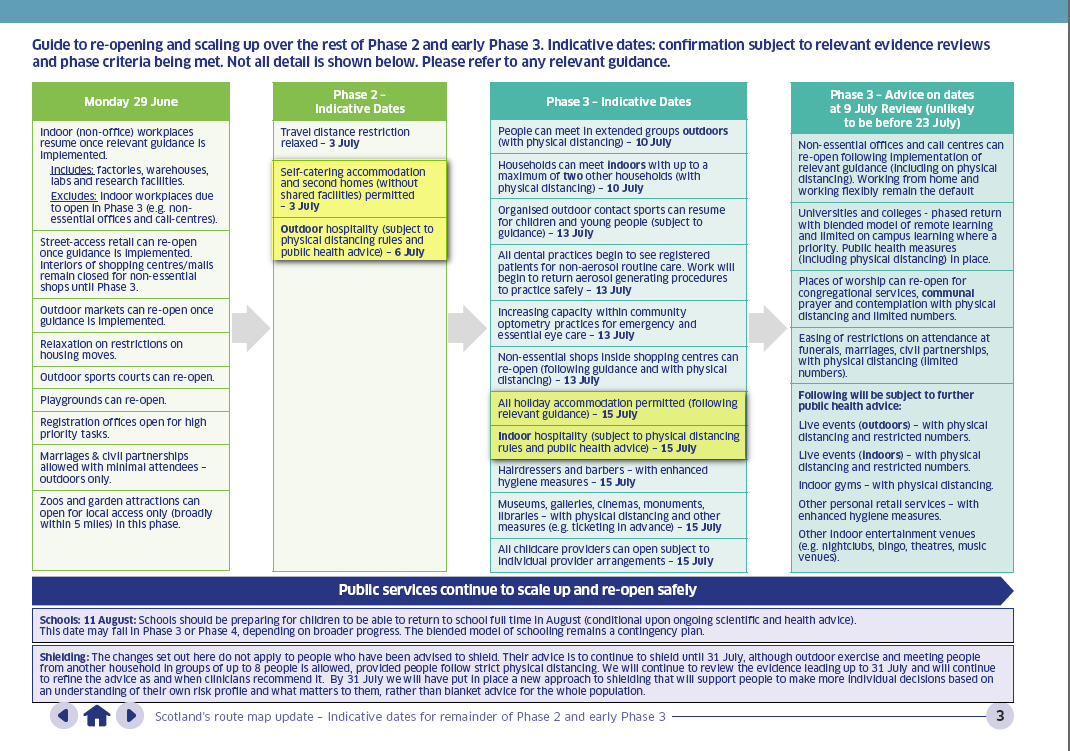 Nicola Sturgeon stressed that these are indicative dates for the remainder of Phase 2 and the early part of Phase 3:
3 July: Re-opening of self-contained holiday accommodation – for example holiday cottages and lodges, or caravans where there are no shared services.
6 July: outdoor hospitality such as beer gardens will be permitted to re-open. As we explained in our last update, the Scottish Government's decision to seek further advice from its Scientific Advisory Group pushed back the original plan to allow reopening from mid-June. That advice is expected on 2 July and will allow guidance to be issue and "any necessary mitigations" put in place.
15 July: pubs and restaurants will open indoors from 15 July - but on a limited basis initially and subject to a number of conditions. Detailed guidance will be issued as soon as possible. On the same date, all holiday accommodation can re-open.
No dates – indicative or otherwise – have been announced in relation to nightclubs, casinos and other "live" entertainment venues. It's highly unlikely that any changes here will take place before 23 July. Further announcements will be made by the First Minister at next review stage on 9 July.
Other developments
Social distancing
No decision has been taken on the reduction of social distancing from 2 metres to 1 metre (the larger distance being mandatory in premises currently allowed to be open). In her statement to the Scottish Parliament on 24 June, the First Minister said:
"It might be possible to allow relaxation of the 2m physical distancing rule. I will receive that advice next week, and will report on it by 2 July. We will issue guidance as soon as possible after that."
Guidance
The Scottish Government has issued hospitality and tourism industry sector guidance available here.
We've produced a summary of the salient points which you can download here.
Guidance has also been issued to Licensing Boards under Section 142 of the Licensing (Scotland) Act 2005. Because it has statutory backing, Boards must have regard to guidance when carrying out their functions under the Act. It proceeds on the basis that the Scottish Government wishes to assist the licensed trade in its recovery from the economic impact of Covid19:
"Flexibility and pragmatism in decision-making and sensitivity to the wider economic situation should be at the forefront of how a Board decides to operate."
In relation to occasional licences for outdoor areas, Boards are expected to consider all applications "sensitively" and "with no unnecessary hurdles" put in place.
Data collection
Licensed businesses will be required to collect customers' contact data to assist the NHS Scotland "Test and Protect" scheme. This will raise important data protection issues for the trade and we'll be providing guidance for our clients when we have more information about the data gathering.
CORONAVIRUS CRISIS LICENSING BRIEFING #10
Update 19 June 2020
Easing lockdown: Outdoor opening delayed
The hospitality industry has suffered an unexpected blow with the delayed reopening of outdoor areas.
The original Scottish Government route map held out the prospect of pubs and restaurants opening "outdoor spaces with physical distancing and increased hygiene routines" following the Phase 2 review (see last update). Although there was no absolute guarantee, trade confidence was high with an expectation that Licensing Boards would be in a position to issue occasional licences starting in the next few days.
But a revised route map published yesterday has pushed the earliest date back to 2 July: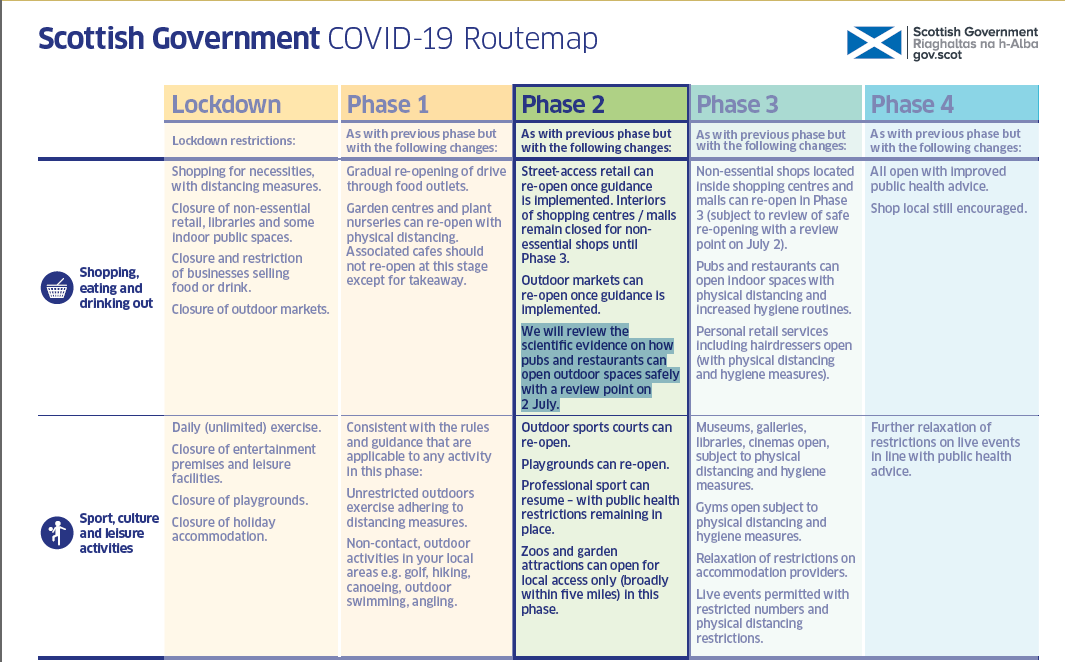 In the course of her daily briefing statement, Mrs Sturgeon told the Parliament:
"We may be able to set a date later that is within phase 2, but I have commissioned further advice from our Scientific Advisory Group to inform this decision.
"There is emerging evidence that places such as pubs, restaurants and gyms can be hotspots for transmission."
She expects the "further advice" in two weeks' time.
The reference to "hotspots" may well have an adverse impact on customer confidence. Graham Simpson MSP wanted to know why outdoor markets posed an acceptable risk but not beer gardens. (Those markets are permitted to open from 29 June along with outdoor sports centres and a number of other businesses.)
Mrs Sturgeon referred to "breathing patterns" - shouting and singing were more likely to create a virus transmission risk:
"There is a lot of emerging evidence that, in particular locations, including pubs, whether indoors or outdoors, the risk of transmission could be higher…[W]e are talking about places where people's pattern of breathing might be changed. If someone is shouting to be heard over music or is singing, they are more likely to inhale and have the virus transmitted that way."
There was also confirmation that the Scottish Government presently remains wedded to social distancing at 2 metres. The First Minister told the chamber that a change would require "rigorous consideration", although it might be possible to reset the distance and 1 metre or 1.5 metres with "additional mitigations". The Scottish Licensed Trade Association and other industry bodies have warned that a 2-metre requirement would leave many venues operating at an unviable capacity.
New Scottish Government publications
Two new sets of guidance have been published:
1. Sector guidance for tourism and hospitality businesses covering safe operating procedures including the preparation of risk assessments.
2. Guidance for occasional licences issued to Licensing Boards under Section 142 of the Licensing (Scotland) Act 2005. This encourages Boards to approach occasional licence applications for outdoor areas "with a keen and focused sense on the needs of the on-sale business to seek recovery from the Coronavirus outbreak". The Scottish Government "expects all applications to be considered sensitively with no unnecessary hurdles having to be overcome prior to the granting of an occasional licence".
The guidance also makes it clear that Boards will wish to satisfy themselves that applicants can meet the terms of the sector guidance and legal provisions on Coronavirus transmission prevention.
CORONAVIRUS CRISIS LICENSING BRIEFING #9
Update 25 May 2020
Easing lockdown: Scottish Government route map – and its challenges
The Scottish Government has now published a route map setting out a phased removal of lockdown restrictions.
In relation to the country's hospitality businesses, the steps – in phases 2, 3 and 4 - are more or less in line with trade expectations: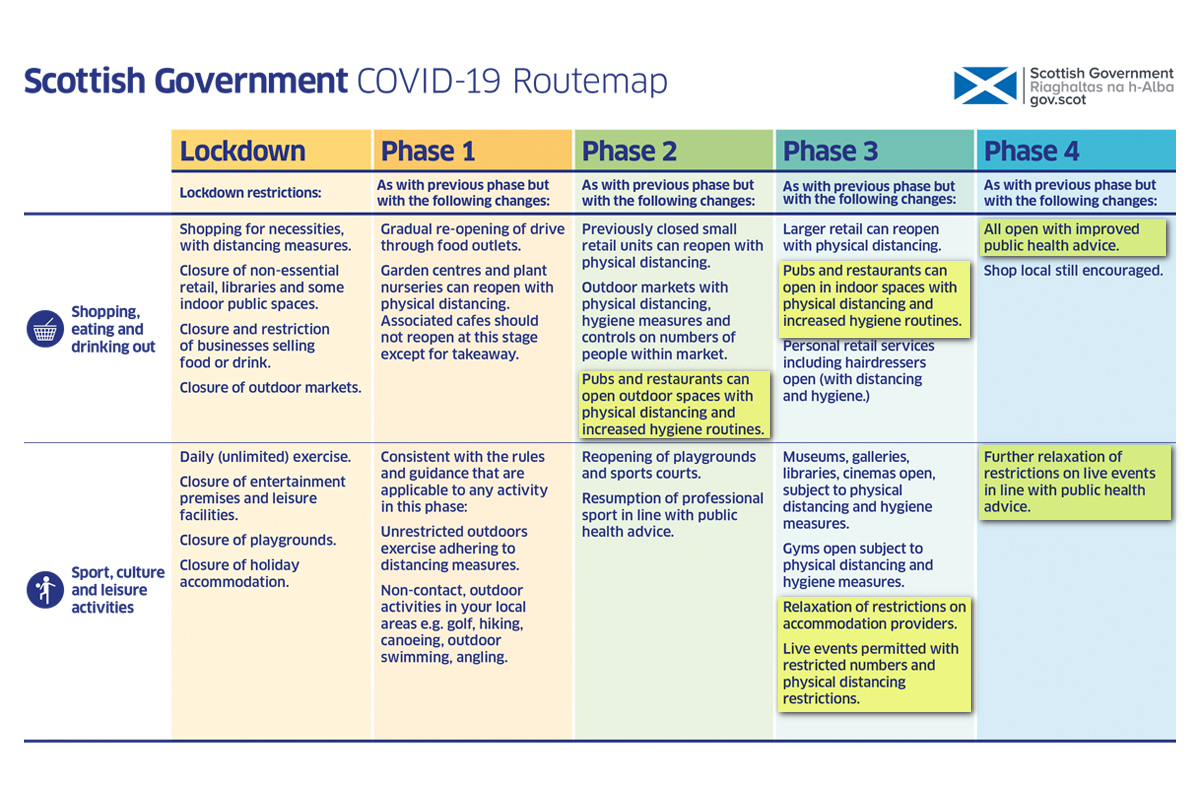 As to timings, there's speculation the implementation of the changes will coincide with the three-weekly lockdown review cycle. On that basis, we might expect licensed outdoor areas to reopen in the second half of June. However, the Scottish Government has made it clear that certain phases may extend beyond a review period. If so, open air drinking could be pushed back until July; and it may be optimistic to assume that phases 3 will be triggered before August.
Until phase 4 is reached, the licensed trade faces substantial challenges. "Distancing" is plainly central to the Scottish Government's strategy: the word "distancing" appears around 100 times in the 46-page route map document. But keeping apart customers in pubs, restaurants and cafés will inevitably shrink capacities dramatically. The Scottish Licensed Trade Association [SLTA] estimates that if the "safe" physical distance is set at 2 metres capacities could be slashed by up to 80 per cent.
Land-locked premises will need to remain closed until phase 3 and those with small licensed external areas have no little or no prospect of trading when phase 1 commences.
Where extra outdoor space is available, putting the necessary regulatory permissions – planning, licensing and roads authority consent – will be time consuming and costly. Customers will need access to toilet accommodation, with distancing potentially leading to long queues and the deployment of staff to manage entrances and exits – in fact, it might be necessary to operate a one-way system. And, of course, the vagaries of the Scottish weather could also put a damper on viability.
"Hygiene" is another word used liberally in the route map plan. But as yet there's no detail on the measures operators will require to adopt. In a Herald article Graham Suttle, the highly-experienced managing director of a Glasgow pub and restaurant group, expressed his concerns that additional overheads will be generated, further eroding viability.
The Scottish Government is now under pressure from trade organisations to remove a palpable existential threat to the country's hospitality industry. The immediate priorities are the creation of more pavement space to allow for the expansion of outside drinking areas and a slackening of the regulatory processes.
While this update contains few positives, the team at Hill Brown Licensing are always on hand to provide our clients with help and advice – and wherever possible provide solutions to the licensing challenges as we continue to navigate these turbulent waters.
CORONAVIRUS CRISIS LICENSING BRIEFING #8
Update 23 April 2020
Business closures: The Health Protection Regulations
In our Briefing #5, we set out details of the businesses required to close and the conditions under which others could continue to trade.
The position is now enshrined in The Health Protection (Coronavirus) (Restrictions) (Scotland) Regulations 2020. To date, there have been two sets of amendments to the Regulations. The first corrects two typographical errors while the second:
extends the so-called "social distancing" requirements to all business that have been permitted to remain open, including workplaces occupied by non-furloughed staff who are not working remotely; and
provides that holiday accommodation providers who have required to close may continue to provide information or services online, by telephone or by post.
The Scottish Government has now produced guidance on social distancing and business closures. It also suggests that all business premises, sites and attractions not required by law to close should close now unless they meet certain criteria.
In the past few weeks, there have been reports on newspaper websites and on social media that police have challenged members of the public who, in an officer's opinion, have not left home for the purpose of buying essential items. For example, according to Edinburgh Live, an Edinburgh shopper claimed her friend had received a fixed penalty notice "for buying a bottle of Prosecco".
While these reports are anecdotal, it's worth making the position regarding alcohol purchases clear.
As a starting point, it's an offence to leave the place where you are living unless you have a "reasonable excuse". The Regulations provide that "reasonable excuse" embraces a number of specified activities, including:
"to obtain basic necessities, including food and medical supplies for those in the same household (including any pets or animals in the household) or for a vulnerable person and supplies for the essential upkeep, maintenance and functioning of the household or the household of a vulnerable person, or to obtain money"
It would appear that police quarrels with alcohol purchases (assuming there is some substance in the reports) proceed on that basis that alcohol is not a "basic necessity" (a view with which the majority of the population would doubtless disagree).
But that's a position without any legal foundation. The Regulations specifically provide that "Off licences and licensed shops selling alcohol (including breweries)" are permitted to remain open. Restaurants, cafés and pubs are permitted to sell food and alcohol for collection or delivery (alcohol sales being, of course, dependent on authorisation in the licence).
The expression "basic necessities" is not happily chosen. But it simply cannot be the case that premises allowed to remain open are not permitted to serve customers. Putting that in sharp focus, it would be absurd if the Prosecco purchaser had been assailed upon leaving an "off-licence".
There may not be any hard, indisputable evidence that Police Scotland have, in fact, taken a perverse view on what is, or is not a "basic necessity". However, it is a matter of record that Northamptonshire Police Chief Constable Nick Adderley announced that his officers might begin to check shoppers' trolleys to determine whether they contained "legitimate essential items". Following a predictable backlash, Mr Adderley was obliged to repent of these threats.
Postscript: Scottish Grocer has now published the following response from the Scottish Government on the trade paper's Twitter feed:
"Convenience stores across Scotland are playing a crucial role in supporting their communities and vulnerable people in particular during the crisis.
"As long as they can adhere to the social distancing guidance, they are able to continue trading throughout the lockdown and there are no restrictions on the types of goods that they can continue to sell."
---
CORONAVIRUS CRISIS LICENSING BRIEFING #7
Update 2 April 2020
Licensing emergency measures set to go "live"
The Scottish Parliament has now passed the Coronavirus (Scotland) Bill which will come into force on the day following Royal Assent, expected to be given early next week.
There have been no amendments to the alcohol licensing measures explained in our last update.
The principle provisions in relation to licences issued under the Civic Government (Scotland) Act 1982 - such as public entertainment and late-hours catering licences – are as follows:
The Bill extends the time allowed for the consideration of applications by licensing authorities from nine to twelve months.
Currently, renewal applications require to be made before the expiry of a licence. "On good cause shown" the authority may accept a late application made up to 28 days after the expiry date. The Bill expands this safety net by stretching the 28 day period to three months.
Provision is made for "remote" hearings similar to those being put in place for alcohol applications.
---
CORONAVIRUS CRISIS LICENSING BRIEFING #6
Update: 31 March 2020
Today the Scottish Government published the Cornonavirus (Scotland) Bill which includes various licensing provisions designed to help the trade and Licensing Boards in these very testing times. The Bill will be laid before Parliament tomorrow with the expectation that it pass all three stages the same day. The Government tells licensing stakeholders: "If something cannot be done due to coronavirus, then the Scot Government wants the licensing system to be able to reflect that, with no loss of rights arising, that is what licensing provisions... intended to achieve"
The headline changes are:
Personal Licences
Personal Licenceholders have up until the day before their expiry date to renew their licence (an extension of 3 months) if it couldn't be done in time due to reason associated with coronavirus.
Licensing Boards have an additional 6 months to determine the renewal from the expiry date.
Licensing Boards are given discretion to extend personal licence refresher training deadlines for individuals unable to comply and can give additional extensions if required.
Premises Manager changes
7 day period within which notice has to be provided to the Licensing Board when a manager leaves/becomes incapable of acting, is extended to 28 days.
Licenceholder then given 3 months to nominate a new premises manager or a longer period if this can't be complied with and a request for an extension is made.
Takeaways – New Mandatory Condition inserted to clarify position on takeaways
If food is sold on the premises but the operating plan contained in the licence does not contain an express term to the effect that food may be taken away, or delivered, from the premises for consumption off the premises, a term to that effect is to be implied into the operating plan.
Hearings
Provision made for Licensing Board hearings to held using remote technology or for submissions to be made in writing. This includes both phone and video conferencing if the Board have the facilities. Aberdeenshire have already introduced this facility and it looks like all Boards will now follow. Parallel provisions also proposed in relation to hearings under the 1982 Act (more to follow).
Timescales for holding hearings also extended if it can't be met for reasons associated with Coronavirus
Extended Hours Applications
Objection periods for LSOs and Police Scotland extended.
Provisional Premises Licence Periods
4 year period extended by a further 6 months if request made and is required due to reasons associated with Coronovirus.
Transfers
In certain circumstances - the death, incapacity, insolvency or dissolution of the premises licence holder - a transfer application must be made within 28 days. Otherwise the licence ceases to have effect. The Bill allows Boards to accept an application after the end of that period if it can't be lodged on time for a reason related to coronavirus.
The premises licence will not cease to have effect provided an application for transfer has been lodged.
Many of the provisions require a 'reason relating to Coronavirus' so it is hoped and expected that Licensing Boards will interpret this widely.
The Bill also makes changes to the Civic Government (Scotland) Act 1982 in particular in relation to expiry dates and renewals. We will provide an update on this shortly.
All of these legislative changes if approved will expire after 6 months but they may be extended for two further periods of six months, giving a maximum duration of 18 months.
The full Bill is available here https://www.parliament.scot/parliamentarybusiness/Bills/114929.aspx
---
CORONAVIRUS CRISIS LICENSING BRIEFING #5
Update: 27 March 2020
Business closures latest
Delivery and takeaway services
The Scottish Government has now clarified the position in relation to licensed premises operating delivery and takeaway services but which have been obliged to close for normal trading.
Restaurants and cafés can remain operational for "food delivery and takeaway". "Public houses" are in a similar position. Although no exceptions are listed for "bars", in our view they fall into the same category as public houses in relation to deliveries and takeaways where they're in a position to supply food.
"Food" includes alcohol but see our post dated 19 March in relation to deliveries.
There is nothing to prevent customers who are collecting orders from entering these premises but they must not do so for any other purpose.
Businesses should operate "social distancing" arrangements by:
ensuring a distance of at least two metres between customers and shop assistants, with equivalent measures to protect staff consistent with "fair work principles";
letting people into the premises only in small groups to prevent spaces being crowded; and
taking queue control measures consistent with social distancing advice outside of the premises.
Shops licensed for off-sales
As part of a number of retail closure exceptions (e.g., supermarkets and corner shops), the following may continue to trade: "Off-licences and licensed shops selling alcohol, including those within breweries, newsagents, post offices and banks".
Hotels and other accommodation providers
The Scottish Government's latest position is as follows:
Hotels: Where people are resident on an interim basis while their primary residence is unavailable, they may continue to do so. Key workers can continue to stay in hotels "or similar".
Hotels, hostels, B&B accommodation, campsites and boarding houses for commercial use: Key workers, permanent residents, and non-UK residents who are presently unable to travel to their country of residence can continue to stay in hotels or similar where required. Those who are unable to move into a new home due to the current restrictions can also stay at hotels. Where hotels, hostels and B&B establishment are providing rooms to support homeless and other vulnerable people, such as those who cannot safely stay in their home, through arrangements with local authorities and other public bodies, they may remain open. Hotels are permitted to host blood donation sessions.
Caravan parks/sites for commercial use: Where people live permanently in caravan parks or are staying in caravan parks as "interim abodes" where their primary residence is not available, they may continue to do so.
It's important to note that these are exceptions to the overall closure position so that, for example, hotel bars, restaurants and spa facilities must remain shut.
The above supersedes parts of the announcement made by the First Minister on 23 March (as below).
Workplace canteens
Where there are no practical alternatives, workplace canteens can remain open to provide staff food and/or provide a space for breaks. However, where possible, workers should be encouraged to bring their own food and distributors should move to takeaway.
Measures should be taken to minimise the number of people in the canteen at any one time by, for example, setting up a rota.
Cinemas, theatres and concert halls
Live streaming of a performance by a small group "could" be permissible with social distancing observed. Blood donation sessions are permitted.
No exceptions
No closure exemptions have been allowed for:
bingo halls, casinos and betting shops;
nightclubs;
premises used for assembly and leisure purposes - e.g, bowling alleys and fitness studios.
---
CORONAVIRUS CRISIS LICENSING BRIEFING #4
Update: 23 March 2020
Hotels told: Don't accept guests
Following the closure of pubs, restaurants and cafés, the position regarding hotels and B&Bs generated considerable uncertainty. It seemed that accommodation could still be provided, provided bars, restaurants and communal eating areas (including staff canteens) were closed.
The First Minister has announced today that accommodation providers "should not be accepting visitors". (This includes providers of self-catering accommodation.) However, they should continue to provide staff with accommodation and be ready to provide an essential service in this crisis if required.
We expect that this move will receive full legal backing throughout a package of emergency legislation measures later this week.
On 21 March the Westminster Government took powers in England and Wales to ensure that restaurants; cafés, staff canteens; bars; public houses; bars, restaurants and dining rooms in hotels/clubs; cinemas; nightclubs; theatres; bingo halls; concert halls; museums/galleries; casinos; betting shops; spas/parlours closed or remained closed.
This measure - the Health Protection (Coronavirus, Business Closure) (England) Regulations 2020 - was not interpreted as preventing the provision of accommodation, providing that food and beverages were only supplied by room service.
Police Scotland issue closure orders
Scotland's Police Force has promised robust action against pubs who have defied the instruction to close.
Emergency closure orders will be issued under Section 97 of the Licensing (Scotland) Act 2005. The closure period cannot exceed 24 hours but Section 99 allows for extensions. These orders do not require the sanction of the Licensing Board and can be issued by a police officer of or above the rank of inspector. They proceed on the basis of public safety or disorder on, or in the vicinity of, licensed premises.
According to Deputy Chief Constable Malcolm Graham, the level of compliance has been "exceptionally high" and that "only a small number" of public houses have declared an intention to remain open until legally obliged to shut down.
Where an emergency closure has been issued the premises concerned will be reported to the Licensing Board for further action.
As in the case of hotels and other venues (see above) emergency legislation is expected to fortify police powers within the next few days.
---
CORONAVIRUS CRISIS LICENSING BRIEFING #3
Update: 23 March 2020
During this extremely challenging time for all in the licensed trade where many staff lay offs are expected, you can find practical advice from our employment law team at the following links:
Information on new coronavirus staff retention scheme - https://www.mshblegal.com/news/hr-brief-the-coronavirus-job-retention-scheme.html
Tips for employers on home working - https://www.mshblegal.com/news/homeworking.html
What employers need to know during the pandemic - https://www.mshblegal.com/news/coronavirus-what-should-employers-know.html
If you are looking to take advantage of the Government scheme and put staff on furlough we can provide you with a step by step guide and documentation. Please email This email address is being protected from spambots. You need JavaScript enabled to view it. if this would be helpful.
---
CORONAVIRUS CRISIS LICENSING BRIEFING #2
Update: 19 March 2020
Alcohol deliveries: Further guidance
It's clear that online deliveries are set to boom during the emergency and we're now providing more detail what businesses must do to stay legal.
What does your premises licence have to say before you offer a delivery service?
As we mentioned in the last bulletin, in our view a premises licence operating plan . doesn't need to include "alcohol deliveries" as an activity. So, provided that the operating plan includes off-sales, the right to deliver is implicit. That view is not shared by every Licensing Board. Some, including Highland, West Dunbartonshire, Scottish Borders, Falkirk and Argyll & Bute require you to state if you are offering a delivery service when applying for a premises licence. If you would like to introduce the service a major variation would be needed before doing so. It remains to be seen whether some flexibility will be afforded in the current situation.
What are the delivery rules?
Record keeping is a key legal requirement. The Licensing (Scotland) Act 2005 stipulates that two records must be kept in either paper or electronic form:
A day book which is kept on the premises; and
A delivery book or invoice held by the delivery driver.
Both of these records must be completed before the alcohol is dispatched and detail the following:
The quantity of alcohol;
A description of the alcohol;
The price of the alcohol; and
The name and address of the person receiving the delivery.
It is an offence to make a delivery without these records, to deliver to an address not detailed in the records and to refuse to allow a Police Officer of Licensing Standards Officer to examine the records.
Some Boards - Glasgow, for example, have supplemented these provisions with their own "local" premises licence conditions.
When can the delivery be made?
Alcohol may be ordered and dispatched outwith licensed hours except that it cannot be delivered between 12 midnight and 6am. Payment must be taken within licensed hours. Most operators will limit delivery times to 10am to 10pm to avoid potentially problematic late night deliveries.
Who can make a delivery?
The delivery must not be delivered by anyone under 18. While a person under 18 can make a delivery if they work in the premises and their role includes making deliveries this should be avoided as it carries a significant risk to the operator.
Does Challenge 25 apply?
Proof of age must be requested at the point of delivery if the driver has any cause to believe that the person accepting the alcohol is under 25. Where the driver has requested proof of age and it can't be provided the sale must be refused.
Do delivery personnel need to have received alcohol training?
Technically, the answer to this is "no" but it goes without saying that in the event of an underage sale a licence holder who failed to train drivers would struggle to establish a defence of due diligence. If partnering with an online delivery service or using third party couriers you should always satisfy yourself that their drivers are trained to the same standard as those working within your premises. We recommend that you keep records of their training.
Who is responsible for the sale?
Licence holders are ultimately response for the sale, even where a third party is involved, so your premises licence and reputation could be at risk if you fail to comply. A recent case in Carlisle where two 13 year-old girls were left hospitalised after receiving an alcohol delivery from licensed premises highlights the risks for both licence holders and the public. The girls made a full recovery but the premises' ability to sell alcohol was removed following a review and the licence holder could face criminal charges.
Bottom line: it's important that you treat an alcohol sale made via a delivery service with the same caution as alcohol being sold within a licensed premises.
---
CORONAVIRUS CRISIS LICENSING BRIEFING #1
18 March 2020
"An existential crisis"
Last week Kate Nicholls, Chief Executive at the British Beer and Pub Association, sounded a warning that hospitality businesses of all sizes - some already on a financial cliff edge - faced annihilation short of robust Government support.
The stark truth is that, in the present, fast-developing emergency, scraps of good news are few and far between.
In this and future newsletters we'll be monitoring developments as they affect the licensed trade; providing practical, positive advice; and offering answers to a number of key questions.
"Mass gatherings": Scottish Government guidance
The Scottish Government has "advised" organisers of mass gatherings - events with attendances of 500 or more, indoors or outdoors - to cancel or postpone as a means of reducing potential burdens on the emergency services.
Plainly, the advice (and it's no more than that) would cover a ticketed event where the numbers exceed the threshold. However, it's not clear how it affects other the likes of high capacity nightclubs. While operators are being urged to take a risk-assessed approach, with the ink barely dry on the guidance it became clear that any interpretation problems have become pretty much academic. It remains to be seen whether club attendances will stand up, but theatres and cinemas are already going "dark". Ambassadors Theatre Group – one of the largest UK operators – has "temporarily suspended" all shows, while Cineworld, Vue and Odeon have closed their doors until further notice. And, of course, Scotland and the rest of the UK may well follow other European countries and force the closure of public spaces by means of emergency legislation.
Licensing applications in the doldrums: Practice changes?
There are already indications that Licensing Board meetings are likely to be cancelled. That, of course, could push the launch of new developments into the long grass and delay important changes to operating plans.
It's just to early to predict how Board resources will cope with this unprecedented situation and whether practices might be adapted.
Certain types of applications require a hearing at a public meetings: new premises licences, non-minor variations and (where there's a police report) personal licences. In other words, there's no "delegated powers" arrangement allowing an uncontroversial application to be granted by the Board's Clerk or by a Board member.
However, at least one Board will not call applicants to a meeting if there are no objections or adverse representations. The application will simply be granted at a meeting unless any unexpected issues arise on the day. On occasions, applicants will negotiate a solution to an objection or representation to avoid being called to a hearing.
Helpful though this approach is, it has no statutory backing. It now remains to be seen whether other Boards will adopt a pragmatic "delegated powers" approach in appropriate circumstances. The Scottish Government has already been called upon to intervene with a proper solution.
The deliveries boom: Adapting business models – and staying legal
Over the coming months demand for home deliveries could swamp retailers' resources. At least one of the major supermarket chains can't offer any delivery slots for three weeks.
The likes of Just Eat, Uber Eats and Deliveroo can expect a major business boom. It's common for restaurants to offer takeaway via these online platforms. Others are now joining in along with pubs starved of customers.
Are there licensing implications? In our view, where a premises licence authorises the sale of alcohol for off-consumption, specific provision for deliveries needn't be set out in the operating plan. But there's a catch. Some Licensing Boards have made it clear in their policy statements that they expect a non-minor variation application to cover the activity. That allows the Board to attach conditions, such as the operation of "Challenge 25" at the point of the alcohol delivery.
If you're now contemplating alcohol deliveries and don't have "cover" in your licence, speak to one of our team and we'll steer you in the right direction.
A similar issue arises in relation to food deliveries. Technically, these ought to be included in the operating plan. But, if not, it is just impossible to conceive that an Board would take enforcement action in the current circumstances.
Alcohol deliveries and "self-isolation"
Just Eat has advised its customers that they can now put a note in the ordering page – "Contactless" – which will instruct delivery drivers to leave the order on the doorstep and ring the bell to signal the arrival of the food. Similarly, some of the supermarket companies have put in place "contactless" delivery arrangements.
It may be obvious - but just to be clear - on no account whatsoever should alcohol be left on a customer's doorstep in any circumstances; and delivery drivers as well as their employers will have to take a view as to any risks associated with face-to-face deliveries to the "self-isolating".
Extended hours: Avoid any quota
If you operate in an area where the Licensing Board imposes limits on the number of extended hours applications (in Glasgow, the quota is 10 grants per calendar year) you should "surrender" any current grants for events that will be postponed or cancelled. Get in touch with the Board and let them know the event will not take place on the scheduled date.
Check back regularly for further advice and updates.