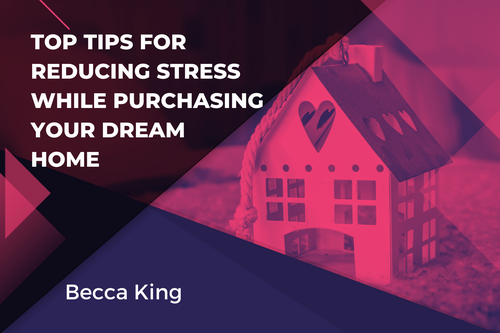 Purchasing your dream home sounds exciting, right? Well, it certainly is. However, the process of purchasing a property can be equally as stressful and the current competitive market has exacerbated the potential for stress. Not to mention that buying a home is one of the biggest financial commitments you will ever make.
The excitement and joy of buying your first home or climbing the property ladder is often tainted by home buyer anxiety. It has been reported that as many as 4 in 10 recent homeowners found the process of buying their home to be one of the most stressful life events that they have experienced. However, despite this, many reported that buying their home was one of the best things they have ever done and that the stress was in fact worth it.
So, purchasing a home can be stressful, it can be all-consuming and overwhelming. However, it doesn't have to be. To assist, here is a brief guide to reducing those feelings of stress while purchasing your dream home.
Find a Property You Love
The first essential stage in securing your dream home is finding it! When searching, it is important that you remain realistic. Seek out a property you love, in an area you love for a price that you can afford. Ensuring that you have a clear understanding of your budget and what you can afford will prevent avoidable and unnecessary disappointments. While undertaking your property search it may help to sign up to mailing lists and property portals to ensure that you are notified when new properties come to the market. It is important to be aware, that in today's competitive market, you must be prepared to move quickly. If you see a property you like, it is important that you contact the agent promptly and arrange a viewing as soon as possible to ensure that you don't miss out.
Obtain a Mortgage in Principle (MIP) at the Outset
You will already be aware of the importance of saving for your house deposit and the length of time that this may take. However, for the majority of people, who are not cash buyers, obtaining a mortgage to part-fund your purchase is essential. It is highly advisable that you obtain a MIP at the outset and a mortgage adviser can assist you in the process of finding the best mortgage for you. In order to make the process of buying a property less stressful it is strongly suggested that you obtain a MIP prior to submitting any Offers on properties that you are interested in. A MIP is essentially a written estimate from a bank or lender which gives you an indication of how much you will be able to borrow. Not only does this provide you with some reassurance as to your borrowing prospects, but it can also set you apart from other prospective buyers. Having a MIP demonstrates to sellers that you are serious and that you can, in theory, afford to buy the property. This can make you a more attractive candidate and may give you more leverage when submitting an Offer.
Contacting Your Solicitor
After you have found your dream property, and you have your MIP in place, it is time to contact your solicitor who will submit a formal Offer in writing on your behalf. Prior to this we would highly recommend gathering all important documentation that will be required by your solicitor. This will include a form of photographic ID, proof of address, information on your source of funds (i.e. how you will fund the purchase and evidence of this) and importantly, what it is that you wish to Offer. Having all of this information at hand and ready to go will make the initial process with your solicitor more seamless and less stressful. Our next tip may be easier to say than do – but we advise that you try not to worry too much about the things that are out with your control. Once you have submitted your Offer, it is out of your hands and you ultimately must await the seller's decision. This can be a nerve-wracking period but it is important that you only focus on the things you can control. If your Offer is accepted by the seller, your solicitor shall deal with the complex conveyancing formalities and legalities. It is therefore important that you find a solicitor whom you can trust. Our highly experienced residential conveyancing team at MSHB are always here to help. Our team has a wealth of knowledge and has helped thousands of people purchase properties over the last 30 years so please contact us if you require any assistance.
Be Aware of All Costs
Another way to minimise stress while purchasing, is to ensure that you are aware of all potential costs. There is the obvious initial cost of the property, however, there are various expenses which may not be immediately obvious to all purchasers, especially first time buyers. Being aware and prepared for all costs will prevent any unforeseen expenses causing additional stress and anxiety. The following expenses are worth keeping in mind:
Land and Building Transaction Tax (previously known as Stamp Duty)
The Additional Dwelling Supplement
Legal Fees and VAT
Mortgage Fees
Removal costs
Insurance costs
Doing your research and being financially prepared to cover any expenses can help to reduce stress and anxiety when buying a property.
Be Realistic and Flexible
Our final general tip would be to remain realistic and flexible. Be realistic in terms of your budget and the time scale for the purchase transaction. Timescales can vary greatly depending on the circumstances of both you (the purchaser) and the seller's. Try to remain as flexible as possible in terms of a date of entry if you can afford to do so and at the end of the transaction you can relax and host your loved ones in your very own dream home!
If you are a first time buyer, we have further advice for you, contained in our blog: Getting on the property ladder: A guide for the first time buyers in Scotland.