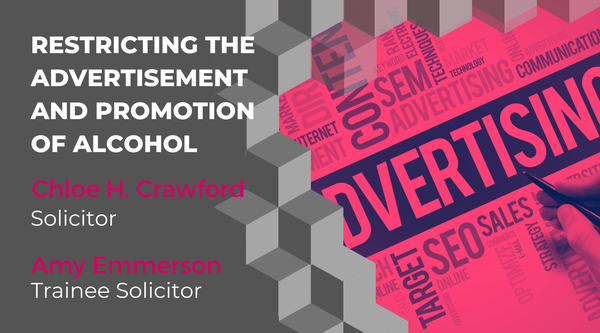 The Scottish Government is currently consulting on potential proposals to restrict the promotion and advertisement of alcohol. There has already been pushback from companies in the drinks sector on the detrimental effects this could have on the trade, as it could heavily restrict advertising and promotion of alcohol.
What is driving the Scottish Government change?
Maree Todd, MSP, Minister for Public Health, Women's Health and Sport states: "Restricting alcohol marketing is identified as one of the World Health Organization's three 'best buys', the most cost-effective measures that WHO recommends to prevent and reduce alcohol-related harm."
There are three main reasons behind the Scottish Government's consultation according to the ministerial foreword:
To stop children and young people in Scotland being exposed to alcohol marketing;
It acts as an incentive for heavy drinkers to drink; and
To change Scotland's "troubled relationship with alcohol".
What are the proposed restrictions, which the Scottish government are seeking your views on?
Sport and events sponsorship (ban on alcohol on sports kits for example);
Outdoor and public space marketing;
In store alcohol marketing (including window displays, and limited aisle-end displays);
Brand sharing and merchandise (i.e. stop the sale or distribution of alcohol branded merchandise such as t-shirts, mugs and branded glasses);
Print advertising;
Online marketing (i.e. television adverts, vlogs, websites, social media channels, viral marketing, and billboard adverts);
Television and radio marketing; and
Restriction on the content of advertisements.
Possible impacts on the licensed trade:
From a licensing law point of view this will have a large impact on the costs for retailers across the sector in relation to in store alcohol marketing. This is due to variation applications which would be required to be submitted to the Licensing Boards for layout changes, supported by updated layout plans. This in turn would increase the workloads of the Licensing Boards who will need to process a large number of these applications to vary these premises licences.
Another example is specialised whisky and gin retailers being unable to distribute merchandise such as t-shirts, mugs, and branded glasses. This will impact not only on businesses who have suffered during the pandemic but also affect the tourism industry.
Budweister Brewing Group, White & Mackay, Brewdog, and Tennents Lager and other companies in the drinks sector are among those who have signed an open letter to Hollyrood Ministers opposing the new restrictions which the Scottish Government is consulting on. Following this letter, Nicola Sturgeon stated that the Government will carefully consider the issues surrounding alcohol advertising.
This consultation is open until the 9th of March 2023 and you can give your views here. If there is anything in this consultation you wish to discuss with any of the solicitors in our licensing team please do get in touch.