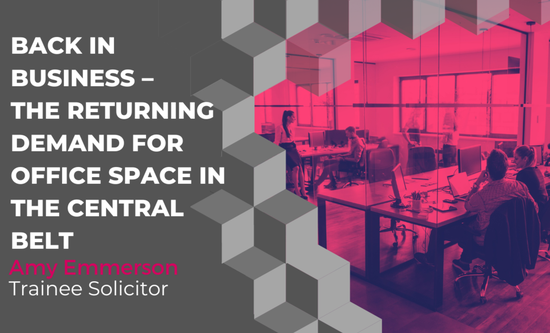 The impact of COVID-19 and the subsequent lockdowns has resulted in an unprecedented shift by employers towards adapting a more flexible working policy. Whilst many companies have now enacted formal hybrid working policies and appear to be moving away from the traditional office unit set up, Scottish commercial property has had its best first half of the year for investment volumes since 2018.[1] As we move forward from the pandemic, we consider its continued impact on the commercial property market.
The current demand for office space in Scotland can be seen most clearly across the Central Belt, with Edinburgh receiving £400m of investment and Glasgow accounting for another £329m.[2] In Glasgow, there was 126,000 square feet transacted in the city centre – an 11% increase on the same period last year. Similarly in Edinburgh, almost 200,000 square feet in lease renewals have been agreed in the last year.[3] The need for office units has resulted in somewhat of a supply-demand imbalance – in Edinburgh for example, there is no new space under construction in the city centre that has not already been pre-let.
Whilst many companies are incorporating hybrid working, few are choosing to go completely remote and therefore still require a central hub for their employees. Developments are now placing greater focus on utilising their space efficiently, for example reducing the number of physical work stations in favour of creating more space for collaboration and meeting spaces.
It is important to consider what this means for the commercial property market as demand continues to grow. The need for office space as seen in Edinburgh may result in an increase in transactions relating to land purchases and future developments as well as lease negotiations. However, the full impact of the pandemic on office space in Scotland is unlikely to yet be fully realised as many companies will be party to lease contracts that run for several years. Such tenants may be using their current lease position to assess their work-place strategies and plan change for the future.
[1] Scottish commercial property investment hits pre-pandemic levels - Business Insider
[2] Scottish commercial property investment hits pre-pandemic levels - Business Insider
[3] Scottish office market 'remains robust' despite economic headwinds - Business Insider